Dr. Helen Robinson has practiced in Okotoks for over 25 years. She opened My Family Dental in 2002 and was later joined by Dr. Lisa Mallett and Dr. Jeff Barr. Along with 11 support staff members, her friendly team has been helping people show confident smiles , while building trust in this award-winning clinic. Complete family dentistry services are offered for all ages, from fillings to root canals, implants to whitening, and more.
This clinic excels in the field of children's dental care. My Family Dental has been affiliated with Child and Youth Friendly Calgary since 2002. In addition to the child-friendly clinic and atmosphere, children get a memento in the mail after their first visit. The doctors furthered their mission, pre-covid, by visiting classrooms in the Okotoks area. For more than a decade, their RDA teaches children about dental care. With the use of puppets and a portable theatre, this engaging, interactive presentation has made them a hit with students and teachers alike! My Family Dental fully funds this community engagement and has, to date, educated more than 1,400 children. The team looks forward to continuing this initiative once COVID restrictions are eased.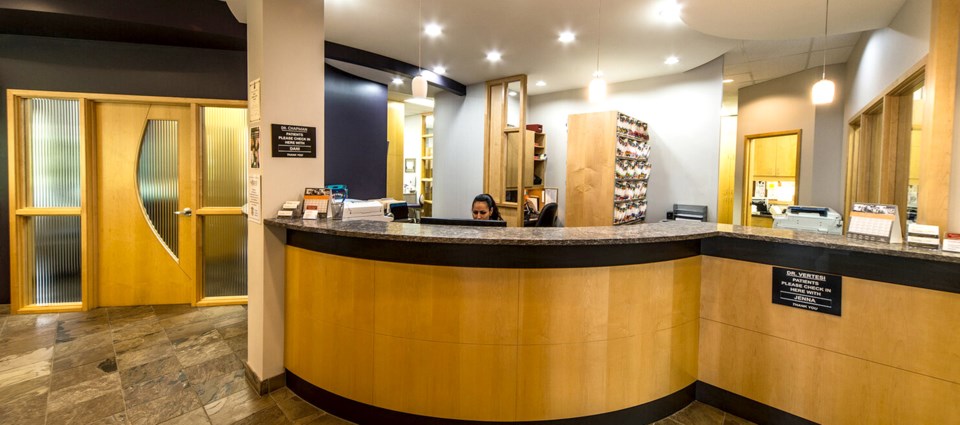 In the pursuit of the most compassionate client care, Dr. Robinson was an early adopter of sedation.
"I have seen so many people fall through the cracks due to dental anxiety" she says. "I have met patients who have not seen a dentist in over 30 years due to fear. Major dental concerns that have been neglected for decades can be resolved using sedation dentistry. It is phenomenal."
To provide sedation, Dr. Robinson introduced Dr. Mallett to her practice. They were colleagues at dental school at the University of Alberta.

"We do not do any work until you are well sedated," assures Dr. Mallett. "Sedation dentistry is a good option for patients who have a high level of fear, difficulty getting numb, or who have had traumatic dental experiences. It is also beneficial for those with a bad gag reflex, sensitive teeth, or complex dental problems. You will likely not remember any dental procedures. You will be totally relaxed."
My Family Dental is as passionate about giving back to the community as they are about dentistry. Dr. Robinson has long been a supporter of Foothill Country Hospice Society, Sheep River Health Trust, Rowan House, Okotoks Food Bank, HTA Scholarships and so many more sports and academic teams in the community!
"I have been practicing in Okotoks for over 25 years and I am just as passionate about dentistry today as when I started my career," says Dr. Robinson. "We have treated many of our patients for years and have seen them grow, have heard their challenges, their joys, and sometime sorrows. We have seen many patients as children and now they are bringing their children to us; such a feeling of family! We are blessed! I believe there is comfort in seeing the same friendly faces. The My Family Dental staff is long-term. Our office manager has been here for 20 years, my assistant for 10 years, and a former hygienist (just retired) was here for over 21 years.
"We appreciate our patients' loyalty and we are honored and humbled by our patients' support, trust and friendships we have built over the many years. Also, we continually encourage feedback from our patients, and we do listen. You can review us after your appointment as we send you a follow up email with a link. My staff will help to decipher your dental plan and work with you to attain your goals." Dr Robinson emphatically states.
My Family Dentistry has won the Gold Reader's Choice award for Best Dentistry for six consecutive years, among other recognitions. Learn more at https://www.okotoksfamilydental.com.