Friday Night Lights football returned to Falcons field for the first time in nearly two years.
And the host Falcons nearly marked their reintroduction on a winning note, ultimately coming just short of a terrific comeback in a 14-7 loss to Red Deer's Notre Dame Cougars in high school football action on Sept. 3.
"It's unique – we talked about it the last few weeks, we're going through things we've never gone through," said Falcons head coach Nathan St. Dennis. "And experiences where we're dealing with kids who haven't played football in a long time.
"But it's awesome to get back, it's finally some good feelings and community."
Foothills, who did not see any game action during the 2020-21 school year, featured a rookie-laden lineup with 28 freshmen, 13 Grade 11 players and seven Grade 12s.
For the lion's share of the squad Friday represented a debut on the gridiron at the high school level.
"It's all new, it feels like it's baby-steps everywhere we went," the coach added. "We only have seven Grade 12s and only five that played in Grade 10. Really, we had a team of five kids who've played high school football.
"We didn't have anything (last year) like other football teams.
"We're in that situation, it's pretty unique and I'm pretty happy with how it went, but there's a whole lot of learning. It's not as energetic as you would get, because there's things that need to happen for us, there's lots of teaching and training that's going in with a young group."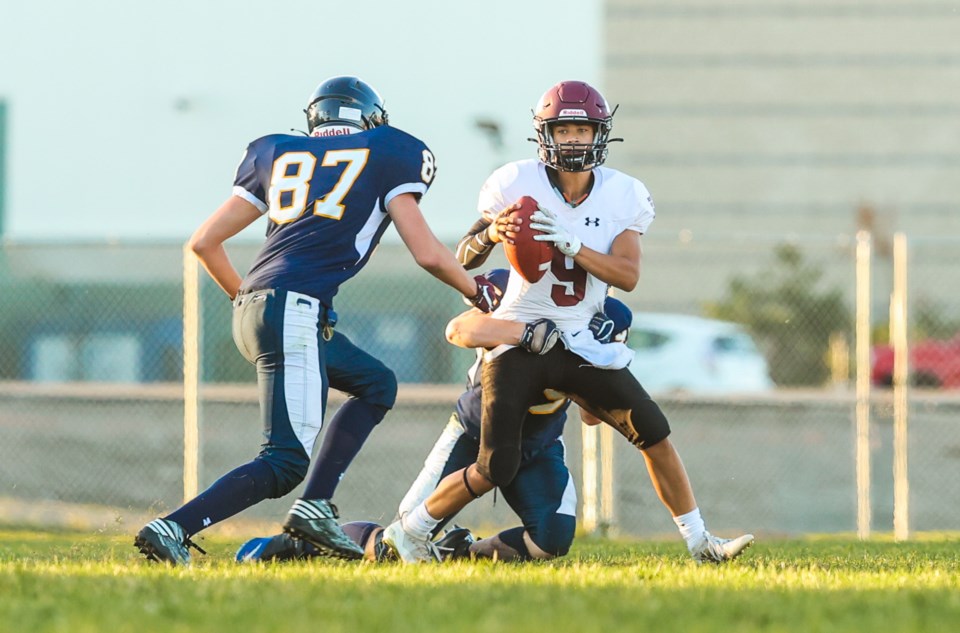 After an inauspicious start to the opener the Falcons showed a glimpse into the future.
Notre Dame opened the scoring just minutes into the contest with powerful runningback Quinton Kremp hitting pay-dirt in what would be the visitors' only touchdown of the game.
The Falcons looked to bounce back and were able to move the sticks consistently.
Falcons quarterback Jed Rodriguez took most of the snaps, along with fellow Grade 10 signal caller Thanasi Antonopoulos, and found Grade 12 slotbacks Trey Peacock and Jonah Waldner to be reliable targets on offence.
"They're both Grade 10s with no football experience, they just got into it," said St. Dennis on his quarterback duo. "I was really impressed with them, they're both great athletes. Jed had a bit more time, he responded really well in practice. He's kind of caught on to that important role of quarterback, even the outside stuff of being a leader, commanding respect by actions.
"He played a Tier 1 football game, first time ever playing football as a Grade 10. I'm really impressed with him and that goes across the board. We've got a whole bunch of Grade 10 kids playing big school football."
Defensively, Foothills was able to make big second and third down stops when needed.
Notre Dame looked poised to add a second touchdown only to have quarterback Carsen Robertson held up at the one-yard line on third down.
The Falcons were then brought down in the end-zone on a run play for a safety giving Notre Dame a 9-0 advantage at the half.
The Falcons came out with added urgency in the second half and found their way into the end-zone in short order.
After Peacock drew a pass interference flag, Foothills made good on its trip to the red-zone with Waldner scampering in for a 9-yard touchdown run late in the third quarter.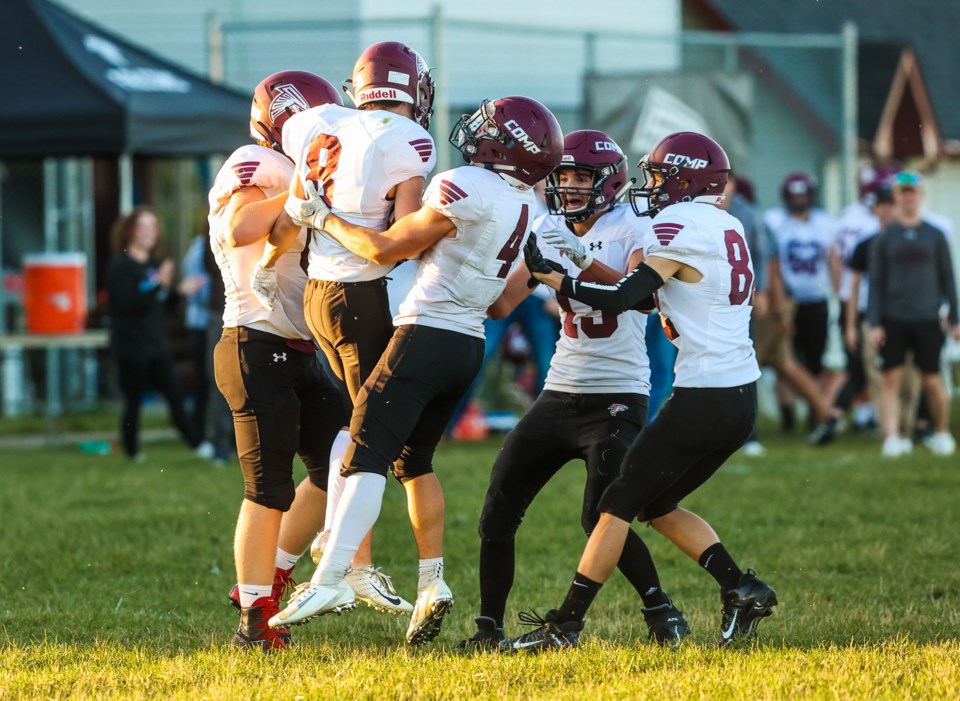 In the fourth quarter, the Cougars added five points through a Falcons safety and a field-goal to make it a 14-7 advantage.
The Falcons were poised to even the score with a big offensive drive in the final three minutes. A 20-yard connection from Rodriguez to wide receiver Ki Williams followed by an outside run from Peacock had the hosts at 1st and goal from the 1-yard line.
An illegal procedures penalty and an errant snap put the team further back and on a desperation third down throw the Cougars intercepted the pass on the final play of the game.
"I was pretty happy with how our offence (did)," St. Dennis added. "We had great drives, moved the ball well, but we talked about how we beat ourselves, we made mistakes that hurt ourselves. We felt great about our ability to play against this football team. The end result is we made big mistakes that cost us.
"We had two big drives that should have ended in touchdowns and that didn't happen."
Lessons the young team will take stock of going into uncharted waters.
"That's the theme all the way," he said. "There's a whole lot to learn and get better from."
Foothills is back at home next week for a battle with the Catholic Central Cougars out of Lethbridge. Kick-off is 6 p.m. on Sept. 10 at Falcons Field.