Two straight matches with a game winning goal came with a first for the Cavalry's young marksman.
Strathcona-Tweedsmuir School alumnus Aribim Pepple notched his first home goal in his first career start for the Cavalry two minutes into the second half as the Cavs (5-2-2) held off the HFX Wanderers 1-0 on June 11 at Spruce Meadows' ATCO Field to increase their unbeaten run to six games in the Canadian Premier League.
"In the first half I didn't get as involved as I would have liked, but I always knew and the coaches said just be patient, keep making the runs and the chances will come," said Pepple, a 2020 grad at STS. "Thankfully, when the chance came I was able to take it.
"I'm thankful that with my coaches and my family behind me they all keep me confident."
On the heels of a busy month of May, the Cavs came into the June 11 clash well-rested with 12 days between its last taste of league action.
The Haligonians came out with gusto in the opening half with sustained pressure in the Cavalry end, particularly in the first 30 minutes.
Akeem Garcia came close on a swift spin and shot inside the box forcing a save from Cavs goalkeeper Marco Carducci with HFX midfielder Jérémy Gagnon-Laparé following it up one minute later with a curling strike off the post at the 34-minute mark.
Pepple turned the game on a dime on the other side of the restart off a set piece, connecting perfectly on a volley on the second phase of a free-kick and finding the back of the on the powerful strike past Wanderers goalkeeper Christian Oxner.
"Thankfully it came off, we all know the importance of set-pieces," Pepple said. "It's gotten us at least nine points this year and can be the difference between making the playoffs and not."
https://twitter.com/CPLsoccer/status/1535725104759455747
The 19-year-old forward has two game-winning goals in as many games after notching his first CPL goal in the team's 1-0 triumph over York United last month.
"For most of my life it's been like that, usually I get off to a bit of a slow start," he said. "As people usually say, the first goal is always the hardest and once you get that first goal it's almost like a pressure off your back.
"I knew as soon as I got that one, chances would keep coming and eventually I would get another one and hopefully we'll just keep going."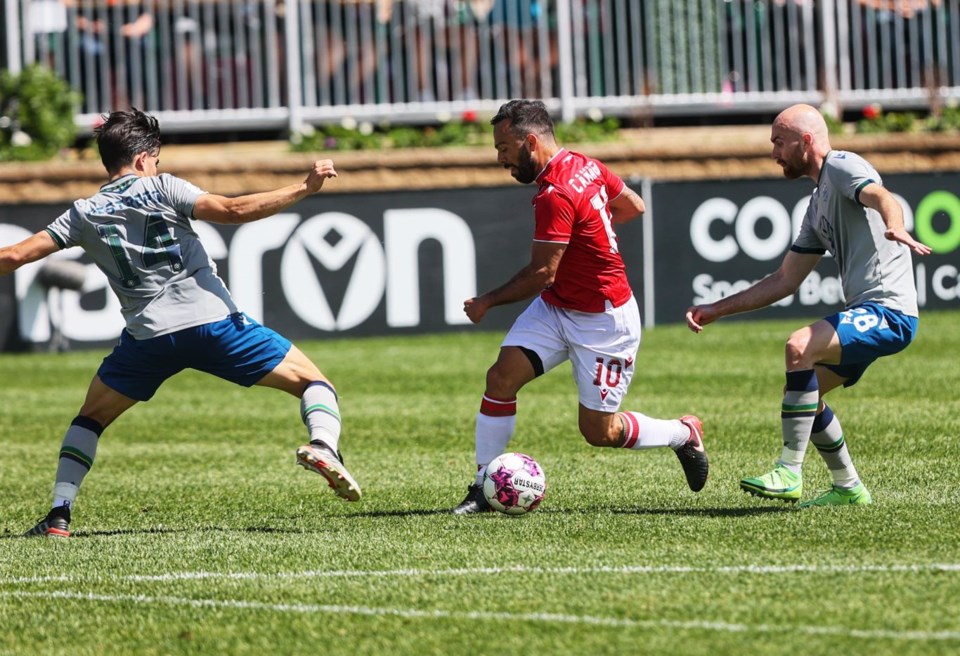 Pepple rejoined the Cavalry after trials at Sheffield United and Getafe CF's U19 squad during 2020 and 2021 after seeing limited action during his initial stint with the Cavs in parts of the 2019 and 2020 seasons.
"I'm still 19 so I'm still learning and growing so by no means do I know everything or is my mentality complete," Pepple said. "From when I was 16 to now there's already been a difference so as long as I keep my head down and listen to my coaches, listen to my family and keep learning then it's only going to go up from here.
"I've just got to remain humble and keep my feet grounded."
The offence from different sources has come at a crucial time for the Cavs as strikers Myer Bevan, Anthony Novak and attacking midfielder Ali Musse were sidelined with enterprising forward Joe Mason just returning to the lineup.
"It's not a bad embarrassment of riches is it?" said Cavalry FC head coach Tommy Wheeldon Jr. "Anybody who you put up there, they're scoring and if there was a golden boot for shared goals I think we would have it.
"What it does is it keeps Myer Bevan, who sat in the stands today, it keeps him hungry, Joe Mason played a deeper role today because that's what the team needed and did smashing and could have had one himself and Aribim is just confident.
"As coaches it makes our lives easier and you can go with the ones who are confident and he had a terrific performance, beyond just his goals, his general play, he had a terrific performance."
At the other end of the pitch, Carducci stopped all four shots for the team's fourth clean-sheet of the campaign and second consecutive. In three home games, the Cavs have only allowed one goal against in 2022.
"We knew they would come here and be difficult to beat," Wheeldon Jr added. "We knew they would also have spells, but Marco Carducci, Karifa (Yao), and I thought Mason Trafford was terrific in terms of blocking and Bradley Vliet, Victor Loturi played in a full back position because of Daan Klomp's suspension, Elijah Adekugbe played a 90-minute game.
"...Back-to-front, front-to-back I thought we were terrific today."
The action continues for the Cavalry with a stop at Winnipeg's IG Field against Valour FC set for June 15 before a return to ATCO Field for another chapter in the Al-Classico as FC Edmonton makes the trip south for the June 26 intra-provincial clash.
For more information go to cavalryfc.canpl.ca.