Spartans volleyball is set to take another shot at provincial silverware.
The Strathcona-Tweedsmuir Spartans boys punched their ticket to the Alberta Schools' Athletic Association 2A Volleyball Championships after coming through a tough field as the winners of the South Central Zone tournament held Nov. 19-20 at Oilfields High School in Black Diamond.
"Something in zones that we didn't do all year is our communication was excellent this weekend," said Spartans right side Azam Ali. "We definitely brought the energy we needed to, we had the skill all season, but everything just came together this weekend and that was key to our success.
"We displayed that through pretty much every single game and didn't let anything bring us down."
At zones, the Spartans entered as the top-seed out of the East region and were pooled with St. Joseph's, Holy Cross Collegiate, Notre Dame Collegiate and Sundre and won all four games without dropping a set.
In the playoff round, the Spartans edged the host Oilfields Drillers in three sets in the semifinal to move through to a gold medal showdown versus Prairie Christian Academy.
The Spartans reigned supreme in a two set battle (25-23, 25-12).
"They had a great group of six, a really well put together team and something we haven't encountered as much this season, especially in league," Ali said. "But they really brought the fight and we brought it back to them."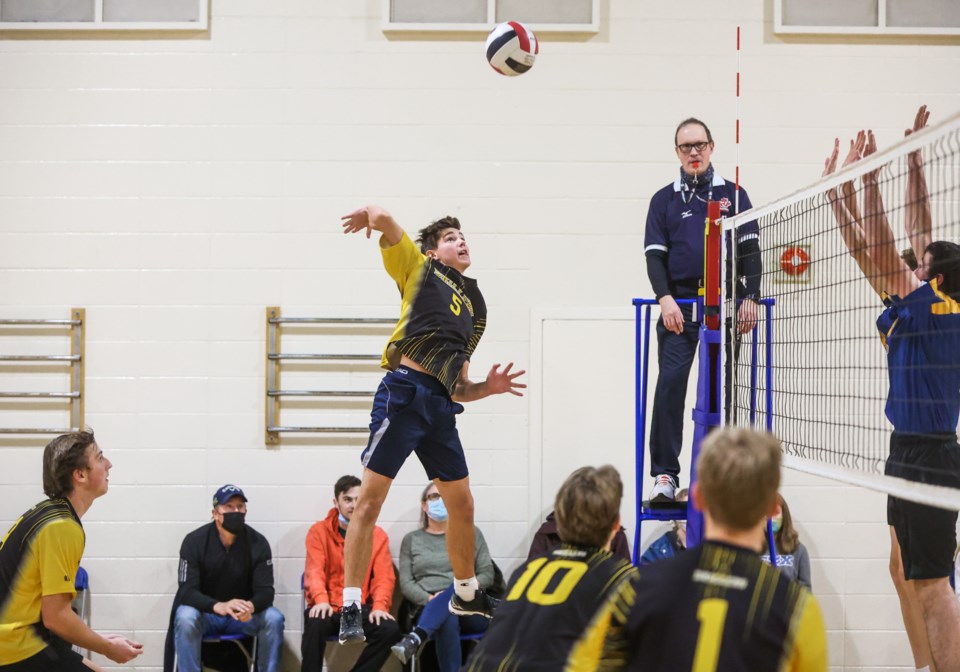 Oilfields went on two win the bronze medal (25-18, 25-20) over Acme.
The Drillers finished second in their pool with its only loss to Acme along with victories over Our Lady of the Snows, Prairie Christian Academy and Banff. Oilfields beat Sundre to get to the semifinal.
The ASAA 2A Boys Volleyball Championships run Nov. 25-27 in Cold Lake.
STS is pooled alongside Calgary Christian, Holy Redeemer, Matthew Halton and the host Assumption High.
"This year, coming into it, we were really hoping we could have some overnight tournaments and we knew our end goal and really wanted to get there," Ali said. "We put in the work, we came to practice, did what we needed to do and it was an awesome feeling winning zones."
The Spartans girls were just a few points from heading to provincials as well.
STS, the host of the 2A girls competition on Nov. 19-20, advanced to the zone final and were edged out in a three-set thriller by the champions, Prairie Christian Academy out of Three Hills.
"Playing PCA for the third time this year, the girls were hungry for a win, and we came out strong in the first set winning 25-23," said Spartans coach Andrea Weber, who co-coaches the team with Michelle Bartoshyk. "With some passing struggles in the second set, we lost some momentum finishing 20-25 and ended up playing a third exciting set. After a hard fought match, the girls lost this game 13-15, which in our books just means it was anyone's game, but not ours that day.
"Michelle and I are incredibly proud of the efforts, teamwork and commitment of these amazing girls – they came together for a silver medal."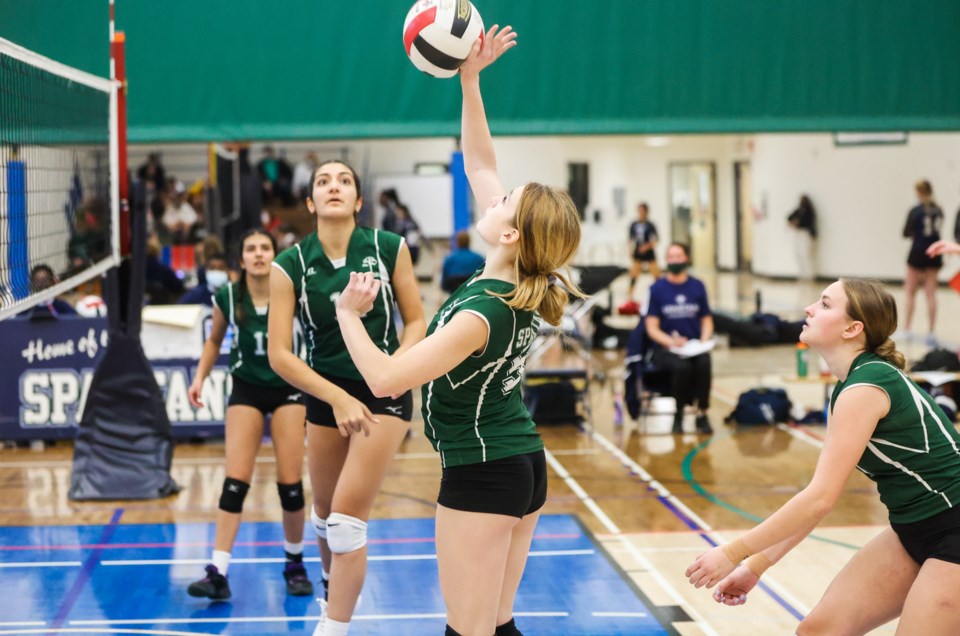 The Spartans pushed through to the gold medal match via a remarkable rally in the semifinal victory over Brooks' St. Joseph's Collegiate.
St. Joseph's led the opening set 24-14 only to see STS rally back to 24-24 with Alia Nanji's service game keying the comeback. The Spartans went on to take the marathon set 32-30 and took the ensuing set by a 25-23 count in the nail biter playoff match.
The Spartans came out of the Blue Pool with Oilfields, Three Hills, PCA, and Our Lady of the Snows with all three zone medallists coming out of the same grouping as Three Hills High claimed the bronze.
For more information on the upcoming ASAA 2A Volleyball Championships go to asaa.ca.