A new-look lineup made an instant impact for the Okotoks Oilers.
Carter Massier scored in his home debut after three months out to injury and Connor Gourley laced up his skates for the first time with the team two days removed from being acquired from the Camrose Kodiaks as the Oilers knocked off the Canmore Eagles 3-1 on Jan. 7 at Pason Centennial Arena.
"That was awesome," said Massier. "The boys played good, we all played good.
"It was the perfect way to (come back)."
Massier, a 2001-born forward with three seasons of WHL experience under his belt, skated in just three games with the Green and Gold at the beginning of the season before an over three-month absence to injury.
"It was pretty frustrating showing up for practice and not really getting to do too much and then watching the boys play and not being able to help them out," Massier said. "So it was really nice to be back."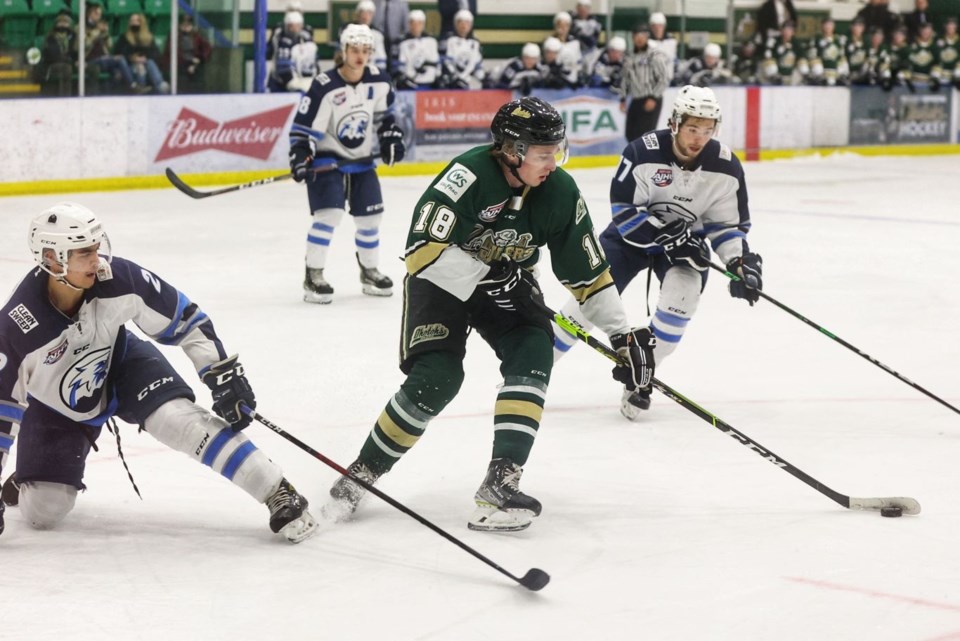 Massier opened the scoring, Bowden Singleton added a powerplay marker in the second stanza and Conyr Hellyer notched a late insurance goal in the final frame as Okotoks dispatched Canmore by the 3-1 count to improve to 18-19-2.
"It was a whirlwind for sure with a lot going down on one day," said Gourley on the heels of the trade. "But I can't be more happy to be here.
"There's lots to get used to, but the guys made it a lot easier on me and it was an easy change of scenery."
Gourley, 17, registered 15 points in 36 games with the Kodiaks in 2021-22 after putting up seven points in eight games last season in Camrose.
"He's familiar with our program, a younger guy and we think it's a huge (transaction) for this year and the years to come," said Oilers head coach and general manager Tyler Deis.
"He's a big guy, he has a lot of skill and he can be that power forward that can help our team out and play through those three (positions), he can play left, centre and right wing and when a kid's that versatile it's big in the sense of what he can bring to our team."
The 2004-born forward is an Arizona State Sun Devils commit, following in the footsteps of older brother Jarrod who had three seasons in Tempe after a decorated AJHL career culminating in a championship in 2018 with the Spruce Grove Saints.
"I hope to bring a lot to this team," Gourley said. "I want to generate some offence and I see myself as a power forward, I like to get into the gritty areas and help my team win any way I can."
Gourley brings considerable pedigree to the Oilers as a prolific scorer in the minor hockey ranks with the Calgary Buffaloes AAA program.
In 2018-19, he led Alberta's Bantam AAA ranks with 36 goals and 75 points on a dominant Calgary Bisons team alongside Okotoks rookies Sam Huck and Jamie Weller.
The following season, Gourley was a member of the Edge Mountaineers Prep team with Oilers leading scorer and NHL Draft prospect Rieger Lorenz.
"The guys have been great to me, lots of friendly faces I know around so it's been very welcoming, the leadership group has been really good to me," Gourley said. "Rieger Lorenz is one of my best buddies, Brody Maguire I grew up with and Bowden Singleton I grew up with my whole life.
"Definitely knowing a few of those guys makes coming to this room a lot of fun."
Adding a forward to the mix took on added importance with Okotoks continuing to ice shorthanded lineups up-front with just 10 forwards and eight defencemen getting into the lineup in the Oilers' three games after the holiday break.
"We've got 14 forwards and we haven't had a full forward lineup since the beginning of the year," Deis said. "And we still don't have one."
Okotoks closed the weekend with its biggest win of the season, knocking off the visiting Bandits by a 4-3 count on Jan. 8 to hand Brooks its first regulation loss in 38 games and second defeat all season.
Singleton, Maguire and Dean Spak scored in the first period, rookie Ryan Neumann added another in the middle stanza and the Oilers held off a two-goal third period comeback from the top-ranked team in the country. Okotoks netminder Parker Sawka made 38 saves for his seventh win of the season.
At 19-19-2, the Oilers will look to keep the home cooking going with the Sherwood Park Crusaders travelling south on Jan. 14. Okotoks is then on the road to clash with the Drumheller Dragons the following night.
For more information go to okotoksoilers.ca