The Okotoks Oilers passed their first big test with flying colours and a piece of history.
Okotoks tied the Alberta Junior Hockey League record with three straight shutout performances and handled a grueling four games in seven days stretch with four consecutive victories to improve to 7-3.
"There's a lot of pride in the d-zone, that's how you win games – blocking shots and keeping it simple in the d-zone and breaking pucks out," said Oilers defenceman Logan Magowan. "The better you are in the d-zone, the more time you get in the o-zone.
"It's experience, it's practising with the systems and working on F-3 (forwards) and just supporting the puck better in the d-zone helps a lot for breaking it out as well as keeping pucks in the corners, the grey areas, to just stop the offence."
Okotoks opened the week by blanking the Olds Grizzlys 7-0 on the road on Oct. 5 behind a 16 save shutout from Austin Zavoda. Ryan Neumann scored twice, his first two in the AJHL, Connyr Hellyer notched a pair, Nolan Flint and Bowden Singleton found the back of the net and defenceman Sam Moshurchak tallied his first junior goal.
Two days later, the Oilers blanked the Drumheller Dragons on the road 2-0 with Parker Sawka stopping all 28 shots. Singleton and Ethan Jamernik provided the offence, the latter his first with the Oilers.
"We always kept that F-3 high and our penalty-kill was awesome," said Oilers forward Dean Spak of the team's stellar week defensively. "When we're forechecking hard we always try to keep that third guy back high so we have that extra support for the defence. So when pucks get turned over, you have that extra guy there.
"Guys glued together this week and it was really good."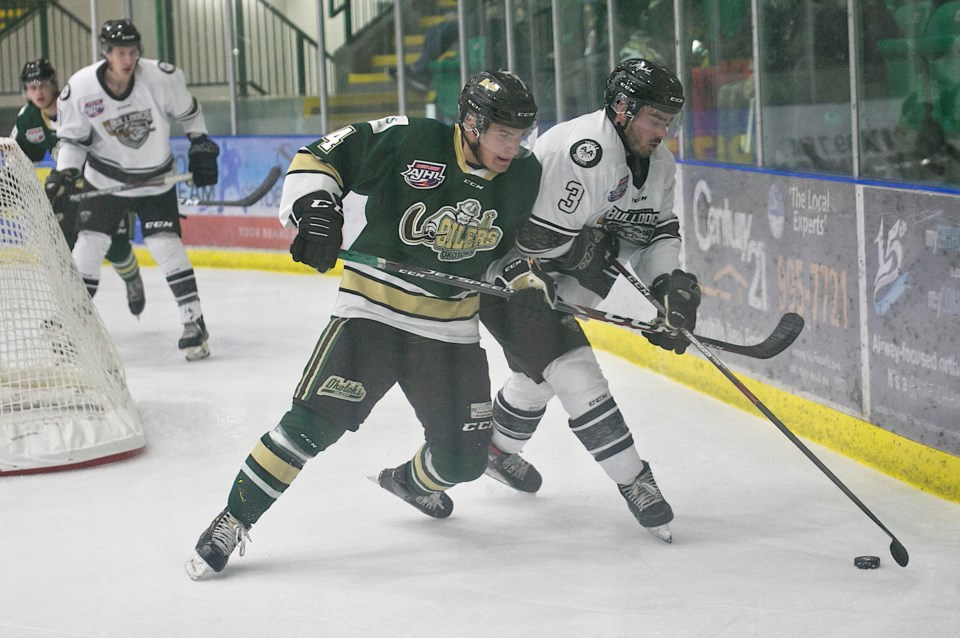 The home-and-home shifted to Okotoks with similar results as the Oilers dispatched the Dragons 3-0 on Oct. 9 at Pason Centennial Arena. Flint, Spak and Rieger Lorenz provided the offence with Zavoda making 23 saves to extend the shutout streak to three games.
The three consecutive shutout milestone has only been reached seven times, with Okotoks previously accomplishing the feat in the 2013-14 campaign.
"They're the backbone of the team here," said Oilers head coach Tyler Deis of his goaltending duo. "We're going to make a lot of mistakes and they're going to bail us out quit a bit. It's good to see."
Okotoks saw the shutout streak come to an end yet extended its winning run to four by knocking off the Blackfalds Bulldogs 5-3, Oct. 11 on home ice, in the first ever meeting between the teams.
"We were playing pretty good hockey," Deis said. "(Against Blackfalds) we were a little bit inconsistent, maybe just a little bit tired. But they found a way to win and we're happy with that.
"The first couple games we really stuck to our structure and what we're trying to do and this one got a little bit away from us. It's good, we're going the right way and just have some little things to tweak."
Singleton paced the offence with two goals with Flint, Lorenz and Neumann also tickling the twine.
Sawka made 26 saves on 29 shots as the Bulldogs saw extended time on the man-advantage with seven powerplays on the night.
After starting the season alternating wins and losses through six, the Oilers are now on a season best four-game streak and have climbed into a two-way tie for second spot in the South Division.
"That's huge," Spak said. "With that win-loss (run), to stay consistent we want to get streaks going with wins and hold on to it."
Okotoks has a lighter schedule load this week with a pair of home dates as the Dragons are in town for an Oct. 15 match-up followed by an Oct. 16 meeting with the visiting Camrose Kodiaks.
And now they know they can handle a busy week.
"After games it was getting a good sleep, eating well, drinking lots of water helps a lot," Magowan added. "Stretching and having a good warm-up goes a long way in taking care of yourself.
"I'm pretty sore, but we're all ready to go to practice … and be ready to play next weekend."
For more information go to okotoksoilers.ca.