Horsemanship and a knowledge of intricate rules goes a long way in polocrosse.
The unique sport, born out the United Kingdom, was on display at various levels of expertise during the Labour Day weekend at the Okotoks Ag Grounds with the Foothills-based Ranahan Polocrosse Club hosting the Canadian Polocrosse championships Sept. 4-5.
"If you can ride and you have the skills of riding, it's a huge benefit, because now you're not concentrating so much on your horse," said Dave Rees, a polocrosse player and the head umpire for the event. "And then you can concentrate on your racquet skills and then, of course, you have to know the rules otherwise you're getting whistled all the time."
Similar to polo, the three-on-three sport features a soft ball, a racquet and small net on a large field of play.
"It's emulated after netball which is popular in England and Australia," Rees said. "That's where the game originated, they copied netball rules where you have a scoring zone, middle zone and end zone and only certain numbers can score."
Teams of three are assigned specific positions in which they can carry the ball in specific areas of the pitch, akin to what's seen in field lacrosse.
"When you have people entering as a 1-person, now you're trying to hook them up with the same level of play and keeping everybody happy," said Kathy McAteer, one of the event organizers from the Ranahan Club. "So the last couple days before the tournament when you get everybody in threes and they're all happy it's like 'phew.' Now all the horses have to stay well."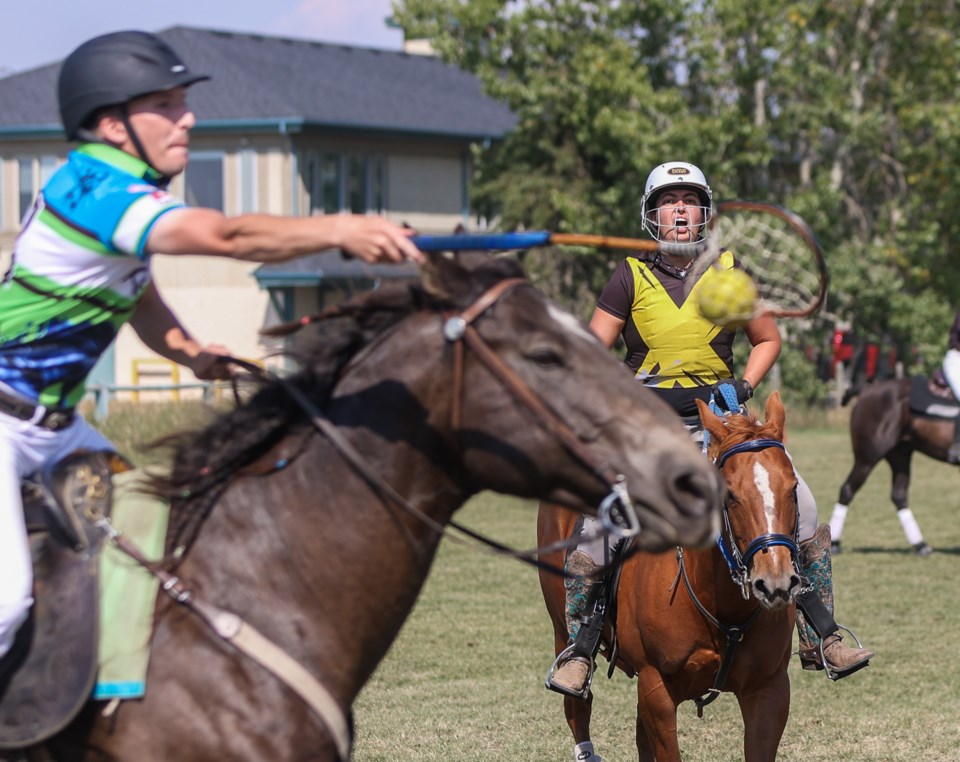 Polocrosse is a family affair for the McAteers with Kathy, her husband Geff, daughter Elyse and son Adrien all playing out of Ranahan, headquartered between Okotoks and Black Diamond.
"We all started riding about 10 years ago and I had played a bit of lacrosse when I was younger and someone said 'I've got the sport for you,'" Kathy explained. "I have an older daughter that played with us and the daughter that plays now (Elyse) is quite a little one and she's become quite a good player. And this year our oldest son (Adrien) has also joined so it's been kind of cool to have the youngest and the oldest ones playing the sport together and it's the oldest one that's learning and the youngest one is more accomplished.
"And for me and my husband it's just so much fun."
Rees, who has also has two daughters involved in the sport, echoed the sentiment.
"Polocrosse is kind of like a drug, mainline it, once you get it into your veins you're hooked," he said with a laugh. "Once you play a couple games boom you're in it."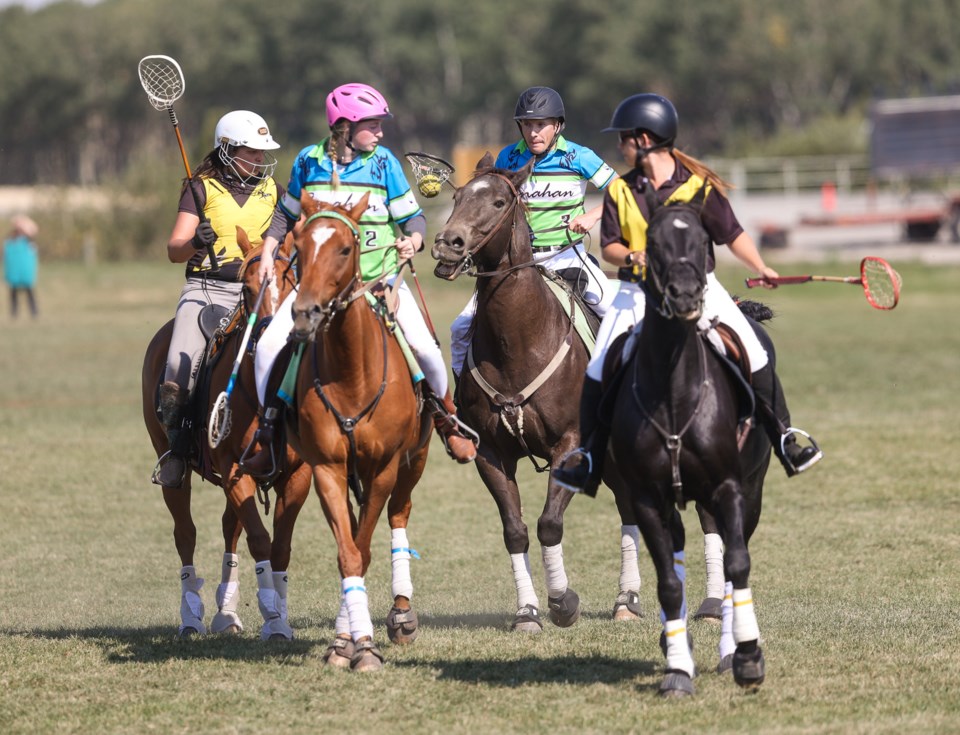 It's the third year the Okotoks Ag Grounds have been the site of the championships, including during the 2020 season.
McAteer said it's been terrific to work with the ag society, adding the group has been extremely supportive and aims to boast many different disciplines and events.
Teams were based largely out of the Foothills area club as well as one from Edmonton with a total of 21 competitors at the event.
The plans are to get more teams from south of the border and expand the event and help grow the game in the future.
"We're hoping because this is a fairly new concept for Canada, they do it out of the United States all of the time, to have an end of year championships," McAteer said. "It's developing, but with COVID none of the U.S. teams were able to come over. But we're going to open up a certain amount of spots for U.S. competitors to come.
"They're a bit larger, they've been doing this for a while so some of their competitive level will up the level of our games as well."