As opening acts go, this one will be tough to beat.
The Okotoks Dawgs powered their way to a three-game sweep of their opening homestand in the Western Canadian Baseball League with 44 runs scored on 49 hits in comprehensive victories over the Brooks Bombers and Sylvan Lake Gulls.
"First practice we got together as a team and we connected instantly," said Dawgs infielder and Okotokian Connor Crowson. "I think we're seeing the ball well right now and we're going to keep doing that throughout the whole season."
Okotoks closed the weekend by chasing the visiting Gulls 10-3 on May 29.
McCoy Pearce hit his second home run in as many days, Tucker Zdunich drove in three runs with Brendan Luther and Alejandro Cazorla each adding two RBI.
"It's a big confidence booster for everyone," Pearce said. "Everyone is starting to get better swings on the balls after the first few days.
"We're going away for a little bit and hopefully we can continue this momentum we have."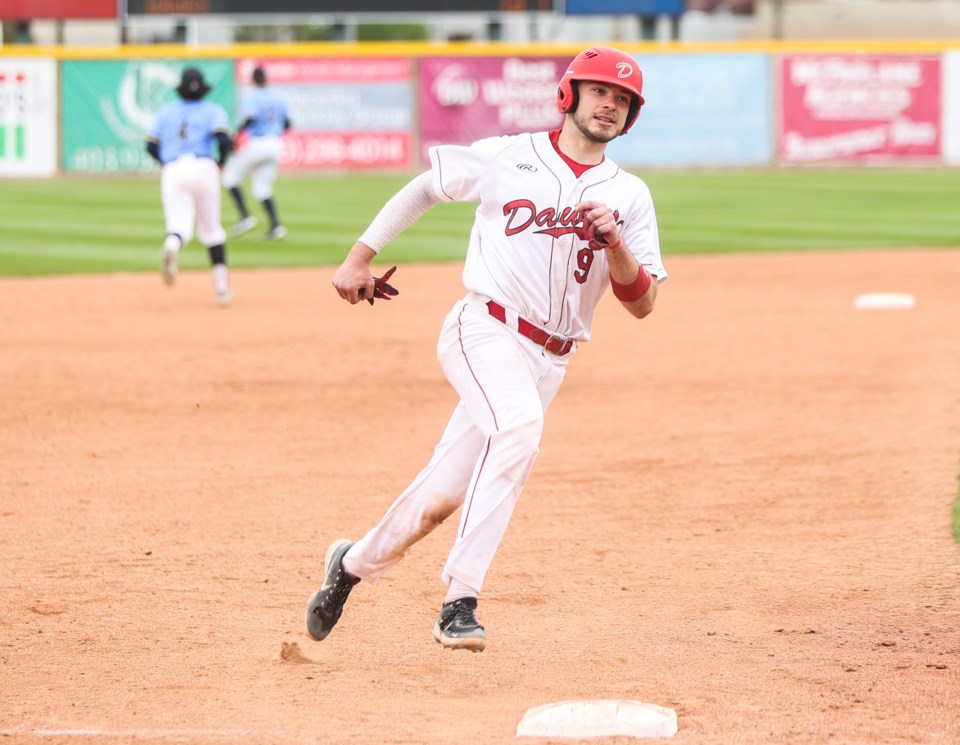 The second game of the set saw Okotoks bash the Bombers by an 18-4 count.
Pearce and Luther paced the offence with three RBI nights with Cazorla, Zdunich, Ryan Dousett, Noah Geekie and Koby Laevens driving in a pair.
The season opener saw Okotoks blank Brooks 16-0.
Pearce was a perfect 5-for-5 in the icebreaker, Zdunich drove in four, with Crowson and Ricardo Sanchez posting two RBI nights.
Huge innings have been behind the blowout victories with Okotoks posting multi four-plus run innings in all three victories to date.
"I feel like as soon as we start hitting it just keeps going and going," Crowson said. "Momentum is key in that, baseball is a game of momentum and as soon as you catch it, keep going."
On the mound, Graham Brunner got the call for the opener and pitched four scoreless innings to pick up the win with relievers Quinn Tocheniuk, Seth Thompson, Brody Forno and Connor Robbins providing flawless relief out of the pen.
As good as the hitting has been, the Dawgs have allowed just seven runs and 25 hits to date.
"They've been unbelievable," Crowson added. "The pitching staff has been getting strikes and letting our defence do us."
The fan support doesn't hurt either.
Okotoks saw over 4200 fans at Seaman Stadium at all three weekend games as baseball fans jumped at the opportunity to get back to the friendly confines.
"So far it's been about coming together as a team because we're all pretty new," Pearce said. "We're trying to keep loose and have fun right now and playing in front of these home fans gives you more energy and also makes you relaxed."
Pearce will have to get used to being supported by the legions of Dawgs supporters.
The hard-hitting infielder was a WCBL All-Star in 2019 with the Brooks and plied his trade for the Edmonton Prospects last season.
"It's a lot better being on the same team as them," he said with a laugh. "Especially at home because the crowd is always against you and now that they're on my side, it gives you more motivation to play well."
For Crowson, it's a second straight summer with the collegiate Dawgs after coming through the ranks with the academy.
"I'm excited to be on the main stage now in front of all these great fans," said Crowson post-game while signing baseballs for young fans of the team. "I was one of these kids so it's just crazy being here now and it's my turn to keep the name going for the Dawgs."
Okotoks will take its show on the road for most of this week as the team hits Medicine Hat on May 31, followed by a stop in Sylvan Lake on June 1.
The Dawgs' next home date is June 3 versus Brooks.
For more information go to dawgsbaseball.ca