A six-day wait was worth its weight for the Bisons to get a measure of revenge.
The Okotoks Bisons (21-2-1) paid the Coaldale Copperheads back for their first regulation loss on the road all season by knocking off the 'Snakes 4-3 in overtime on Dec. 3 at the Murray Arena to ignite a two-win weekend in the Heritage Junior Hockey League.
"I think Coaldale was really physical on us the game in Coaldale and they weren't able to be as physical in our rink for one reason or another," said Bisons general manager Ryan Rarick. "And if we play like we did that (second) game I don't think we're going to have games that are as close as that one if we continue to play like that.
"We were the better team, there was no question."
Fleet-footed blueliner Kegan Law broke the 3-3 deadlock just 17 seconds into overtime, for his fifth goal in just 15 games with the herd.
"He's just such a good skater, even for the AJHL," said Rarick of the defenceman. "We're lucky to have Kegan, it was his decision to come back and play (Junior B) for one reason or another, but he would be a really good defenceman in the AJHL.
"It's his vision and his skating ability that allows him to be the type of player that he's showing he can be."
AJ Belanger, Alaister Standen and Daniel Tainton scored in regulation. Dylan Fries cooked up a 20 saves on 23 shots performance for his seventh win of the season.
The visitors were out-shot 54-23 and received a sterling effort in goal from Ethan Barrows, who turned aside 50 shots in defeat.
"If it wasn't for their goalie playing like that this game, we could have won by a lot more than one goal," Rarick said. "We had a bunch of fans, I think they were maybe some of the Dawgs kids that were there and that honestly helped us play better.
"They were crazy fans, I wish those kids came every game, there was probably 50 of them there. It was probably the best atmosphere at a Bisons game that I can remember in a long time."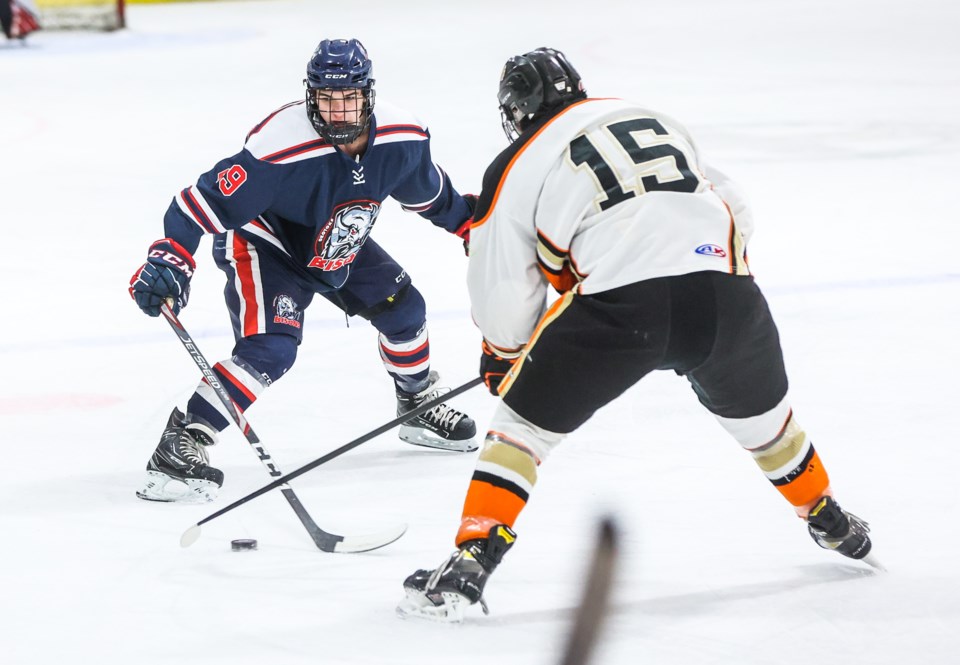 Okotoks took its show on the road to Vulcan on Dec. 4 and bested the Lomond Lakers by a 7-2 count.
Kaden Uchacz led the visitors with a two-goal effort with Evan Woods contributing a goal and two assists, Tainton and Kyle Newnham adding a goal and an assist and Simon Smith-Burness netting the other marker.
At the other end of the ice, Layton Draper made 22 saves on 24 shots for the win.
"We played okay," Rarick said. "We dominated a lot of the possession, but we would miss nets, 7-2 was probably not indicative of the scoring chances. It was probably a little more one-sided than that.
"We were a little short-manned as well. We had some kids working or that had school obligations that they had to take care of so we actually dressed a couple less than a full lineup."
This week, Okotoks has its first and only meeting of the season with the Three Hills Thrashers on Dec. 8, an 8 p.m. start at the Murray Arena. The Bisons then conclude the weekend in Medicine Hat for a Dec. 11 showdown with the second-place Cubs.
For more information go to okotoksbisons.com.