Tanya Thorn has been elected as Mayor of Okotoks.
Thorn received 4,409 votes, Jeff Reinhart got 1,876 and Naydene Lewis was third with 1,166 votes as per unofficial results of the municipal election from the Town of Okotoks on Oct. 18.
Serving as a Town councillor since 2013, Thorn also served as director of Towns South for the Alberta Urban Municipalities Association (AUMA) for three consecutive two-year terms and is currently vice-president of the AUMA board of directors.
"I'm extremely grateful that the community had faith in me and that they've chosen me to lead," Thorn said in an interview following her win, which she hopes will allow her to advance files she has worked on over recent years.
"I want to see us move forward solidly on the water front so we've got a very clear plan and that our community understands what's happening," she said.
"There's some initiatives on the economic development front that are in the weeds happening in the background, so I want to see them come forward."
Thorn will be stepping into the seat left by late Mayor Bill Robertson, who passed away in July after a battle with cancer.
First elected to council in 1995, Robertson served for five terms — 15 years — before assuming the role of mayor for another 11 years.
"I'm extremely sad that he's not here today to see this transition and be able to be there in the wings as that sounding board to run ideas by," Thorn said. "I will miss not having him as a resource in my community.
"At the same time, he set so much groundwork, that I have some big shoes to fill; he had this love for our community that I hope to maybe be able to scratch the surface to exude Okotoks like Mayor Bill. It's hard not having him here today.
"At the same time I'm excited for the future. I'm looking forward to putting my own mark on things as well."
Thorn acknowledged the issues of the day made for an unusual campaign.
"It was an interesting environment, with everything going on with COVID over the last 18 months," Thorn said. "There's a lot of anger, there's a lot of division in our community, so a lot of the conversation wasn't around municipal issues. I don't feel that we talked about things that we really have the ability to do as municipal elected officials."
As a runner-up, Reinhart felt he fought the good fight.
"Obviously there's disappointment, but at the same time I came into this kind of an unknown, going up against someone who's been front and centre with the town like Tanya for so many years," Reinhart said.
"At the end of the day, I think experience and someone who's been there in the council chamber before is where we're at.
"I knocked on 5,000-plus doors and had nothing but good things to say about the conversations and connections I made with the residents and I'm thankful for the team that helped and supported me through all this."
Lewis, who held a seat on council from 2007-2010, shared the disappointment, but said she was pleased to fulfill her goal of seeing democracy served.
"I would have loved to have led Okotoks for the next four years, but it wasn't meant to be," Lewis said. "I just wanted to make sure a democratic process happened, and it did.
"I did do what I planned on doing, and that was running a very clean campaign that was absolutely devoid of negativity towards any of the other candidates."
After the Okotoks Town Council vote, there will be five newcomers to council chambers joining Ken Heemeryck, the lone incumbent up for re-election as councillor, who is back for a third-term.
With fresh faces at her side, the mayor will be forging new working relationships.
"I'm excited about the opportunity to help create a team and get us moving forward in a positive direction together and getting to know who they are as people," Thorn said.
Continuing to work with the returning Heemeryck will add continuity to the new lineup, she added.
"I'm happy to see Ken back at the table. We will need his experience and knowledge on files to move things forward," Tanya said. "He's been a great balance for me in the past as he brings a different perspective and approach to things which I value."
Among councillors, Brent Robinson received the most votes at 3,339, Cheryl Actemichuk got 2,952, Heemeryck earned 2,799, Rachel Swendseid received 2,360, Oliver Hallmark got 2,328 and Gord Lang picked up 2,231 votes.
"I just think people responded to a positive message that was based on facts and ideas for our town and moving forward in a positive direction," Robinson said. "I ran a campaign that was based on ideas and I think people responded to that."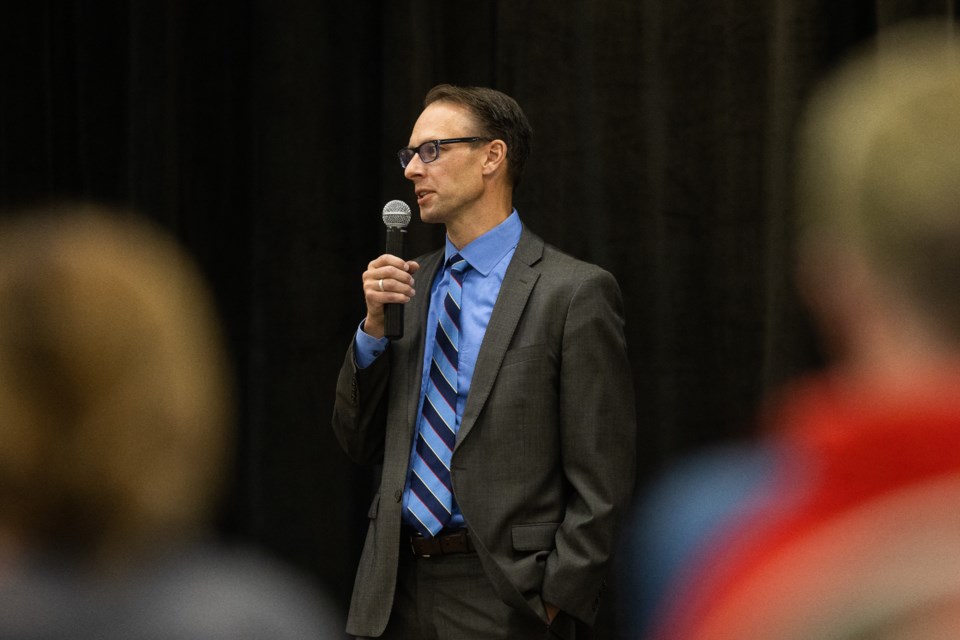 Robinson said what resonated with voters was a positive vision of growth for the community that encompassed the opportunities that come with growth while retaining what makes Okotoks a great community.
"I had some determined supporters who backed me and who believed in my abilities and my vision for our community and my ability to contribute to our town in a positive way," Robinson said. "When you have people like that and then you get on the campaign trail and you talk to a few other people and they see that vision too, it just keeps motivating you to keep getting out there and meet as many people as you can.
"The people of our community are terrific so the more I got out there and the more I talked to residents in our community, the more I was inspired to just keep doing it and to work hard for the benefit of our town and keep doing the best I can to provide good governance and sound management of our community."
Hallmark, the vice-chair for Okotoks Family Community Support Services while also sitting on the Age Friendly Community sub-committee, attributed his election to his extensive volunteer experience in the community.
"I'm super excited and wasn't expecting it so I'm very, very grateful," Hallmark said. "I'm pretty sure it was my experience with community service that was why people voted for me, my experience on committees."
Hallmark, one of the first candidates to put his name forward, said his five-month long campaign was based on positivity.
"I just wanted to hear from Okotokians," he said. "And what they felt the barriers were in the town and I took a very positive approach and just wanted to listen."
Hallmark said he's excited to work with the group of councillors who were elected, having met all of them on the campaign trail.
Robinson echoed the sentiment.
"It's a new group, but it brings a lot of different experiences, a lot of different backgrounds," Robinson said. "And I'm very hopeful that we'll be able to provide a real positive experience for the residents of our community.
"I think it will be great."
For the Foothills School Division Okotoks trustee vote, Sharon Nichols was re-elected with 2,772 votes, along with Lisa Penzo who received 1,669 votes.
The Christ the Redeemer School Division Okotoks trustee vote went to Andrew Gustafson who received 1,208 votes to edge Krista Conrad, who received 915.
Voter turnout for the Town of Okotoks election was 7,561, representing 37.75 per cent of eligible voters.
Results are unofficial until Friday, Oct. 22 at 12 p.m.
This story will be updated.