A new solar project in Longview is ready to soak up the rays.
"The most important aspect would be the financial benefit of it," said Longview Mayor Rose Klassen in a Jan. 8 ceremony.
The project was built to a specification aimed at negating the energy costs of municipal buildings, bringing them to net-zero power consumption.
Leading the charge was resident and Longview Economic Development Committee member Kirk Davis, who built his own net-zero home in 2016 with rooftop solar arrays.
While solar arrays set on buildings get tied in with that structure's power grid, actively negating power draw and feeding excess to the grid, the Longview array will simply feed approximately the same power back into the grid as the buildings are consuming.
"The government allowed us to aggregate all the meters, measure them all up, then build something that is comparable here, instead of putting them all on the rooftops," said Davis.
"It used to be that you had to be behind the meter, but here we were allowed to aggregate them, add them all up, then put power on and it gets even that way."
The buildings covered include the water and sewage treatment plants, the community centre, streetlights, and all other municipal operations.
The project was operational on Dec. 11, 2021 and was constructed by Alberta-owned SkyFire Energy at a cost of $240,963.60, with 40 per cent funded by the Alberta Municipal Solar Program (AMSP).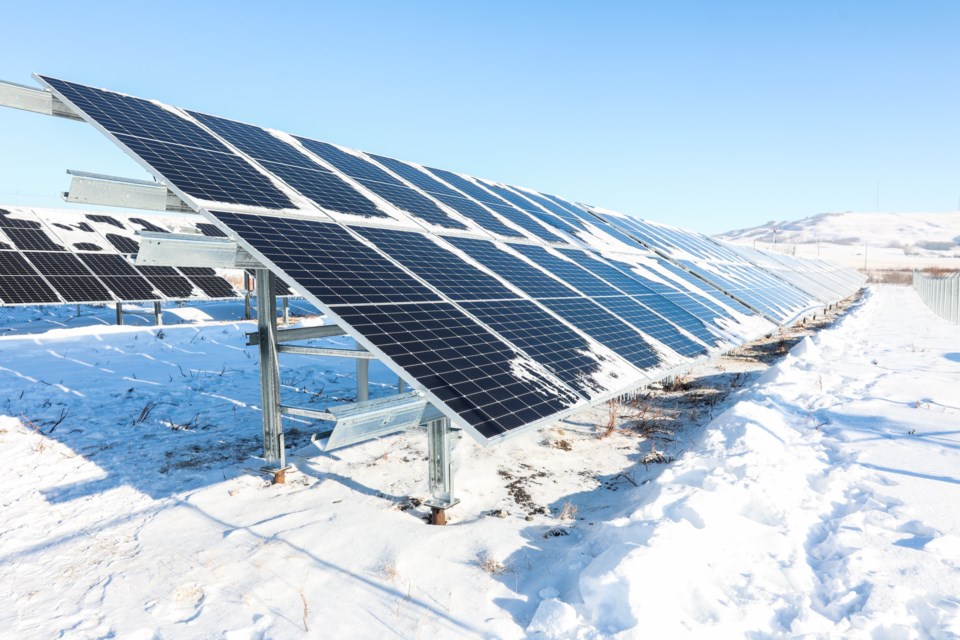 The grant was offered by the Municipal Climate Change Action Centre (MCCAC) and Alberta Urban Municipalities Association and is aimed specifically at projects that reduce municipal power consumption.
The grant funded other municipalities around the province, including Airdrie, Carmangay and Big Lakes County.
The MCCAC states on its website the AMSP completed 115 projects, installed 21 megawatts worth of solar capacity, and negates 13,407 tonnes of greenhouse emissions annually.
Longview's solar array sits on a quarter-section of land already owned by the Village since 2010, adjacent to the water treatment lagoons.
As development cannot occur within a certain distance of the lagoons, Longview CAO Dale Harrison pointed out, the solar array was a good use of underutilized space.
"There's not much you could actually use the land for, this becomes a static development that actually generates some revenue," Harrison said. "It was simple for us, because we had already done the groundwork for a larger solar project, so to approve this one, it was a no-brainer."
With that homework already done, he hopes to see a larger commercial development in the future to offer solar energy to residents.
"The bigger project would be a commercial project that would put solar power into the grid, then the residents would be using power from solar versus natural gas or coal or whatever," Harrison said, adding all that's needed is a developer.
"We've done all the studies, we've done the environmental impacts, it's all ready, all we need is a person with the money and in a couple weeks or a month they could start construction."