The lawn of the Okotoks Art Gallery was filled with orange Friday morning, as the community came together to recognize the National Day for Truth and Reconciliation.
More than 100 people gathered in Piistoo Park to participate in a traditional Blackfoot ceremony conducted by Dustin Walter and Shelly Eli alongside Town Indigenous relations advisor Desmond Jackson. Walter hails from Montana's Ampskapii Pikunii (South Peigan) while Eli is Blackfoot from the southern Alberta Piikani. Jackson is also from the Piikani First Nation.
"[The ceremony] is for truth and reconciliation, to honour, remember and reflect on the lives that were lost to residential school, the survivors and all the families affected by the residential school system," Jackson explained. "So today was a pipe ceremony to pray for all those people and everybody here."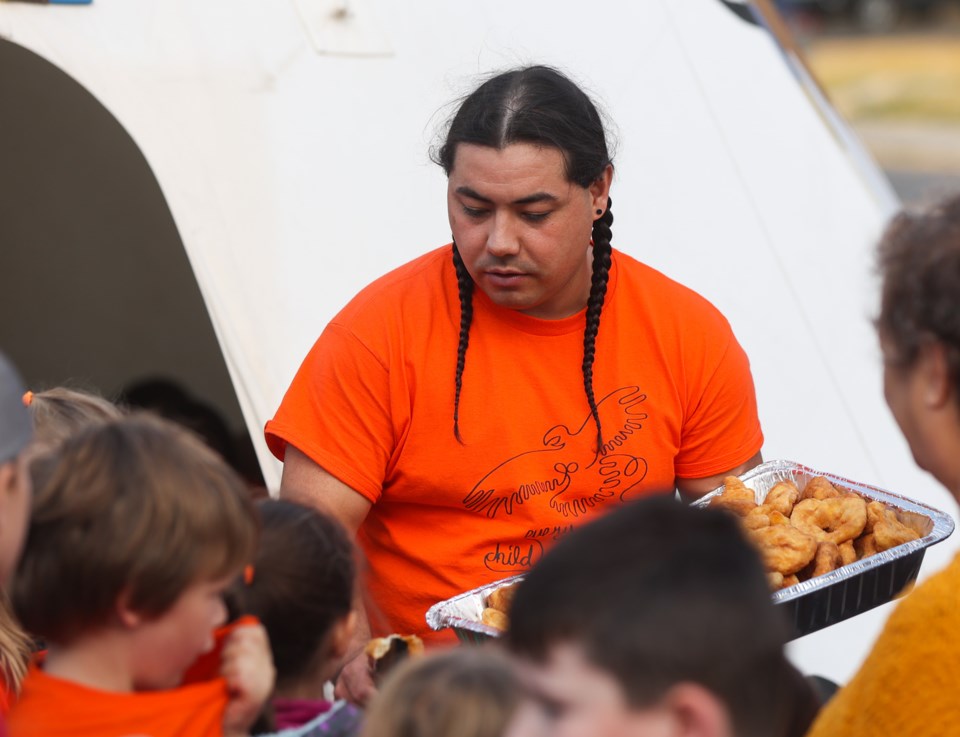 With the teepee full, patrons sat cross-legged on the grass outside for a glimpse of tradition which included singing, prayers, tobacco and sweet grass burning. A round dance was also held, following traditional face painting by Eli and Walter.
Berry soup was also enjoyed, following a prayer of thanks to Mother Nature led by Walter, which ended with a berry returning to the ground. Bannock was also served.
"The support for Indigenous culture and lifestyle in the town of Okotoks is obviously huge, like, this place was packed," said Jackson.
He added there is still work to be done when it comes to recognizing the significance of Indigenous oral culture and western culture, with the goal of drawing parallels and making the two equal.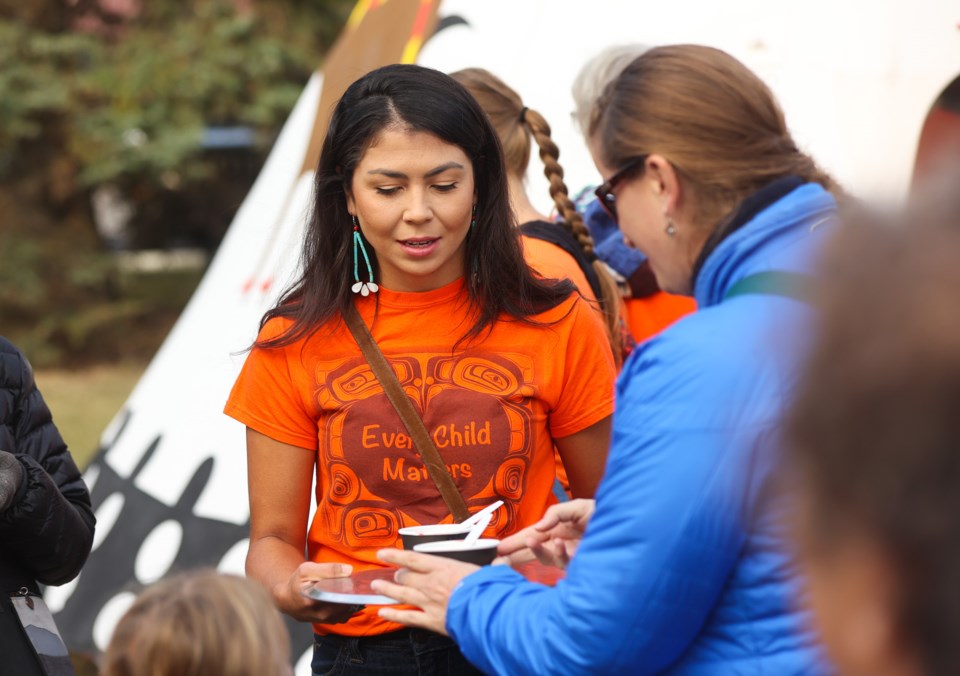 The Okotoks Municipal Centre was lit in orange beginning Sept. 29 and will remain until the morning of Oct. 1.
Town administrative operations were closed Friday, though the Okotoks Recreation Centre, Centennial Arenas, Okotoks Art Gallery and Museum & Archives remained open to the public,
On display at the art gallery, was the Dunbow Residential School display and the showing of a video titled Every Child Matters – Reconciliation – Act Two.