An Okotoks filmmaker is reaching far with his upcoming short film.
The Guardian - The Orbs' Archive, debuting at Okotoks Cinemas Feb. 2, is set in a distant post-apocalyptic future.
The ten-minute concept film follows two characters, Raddix and Emma, who meet by chance and seek out the answers to fix their broken word.
"He (Raddix) is seeking out this legendary archive, which is known to contain the mysteries of the world and how to bring back that stability back and contain the answers he's looking for," said Aaron Glanfield, who wrote and directed the film.
Enter Emma, played by Okotoks actor Lyndsey Alston, who encounters Raddix, played by CJ Collard, by way of pickpocketing him. During the encounter that ensues, she ends up joining him on his mission.
"Emma's character, she has a lot of dynamic to her, her backstory is something we're hoping to develop more of," said Alston. "She was abandoned at a young age and she's thrown into a world that's a post-apocalyptic and survivalist world.
"And so she's travelling through this world trying to figure out who she is, and in this short we've created she comes upon a situation that's not ideal, and it's a pivot point for her character."
Her character's story is one Alston felt encouraged to explore.
"Aaron had a vision, but he was also very open to allowing us as actors to be creative with our roles," she said, adding that was also a challenge.
"It's hard to bring a character to life in such a short time and keep it interesting for the audience.
"We were trying to make something catchy enough to make people go 'Oh, what's this world about and who are these characters?'"
Also serving as the film's production manager, Alston got plenty of experience on both sides of the camera.
"I got a bit of both behind-the-scenes as well as in front-of-the-camera action, which was a new experience for me," she said, adding her job involved a lot more than it might on a larger production, looking after budget, wardrobe, locations, and other aspects.
"Aaron and I sat down a lot and talked about the vision he had for the film, and once we had a good grasp of that, it was a lot of running around."
There was also a jovial atmosphere on set created by a small, tight-knit team.
"I don't think there was anyone on set that didn't know someone else, and so it created a nice environment," she said. "It was a lot of fun. We were joking and goofing around between scenes, but also focused and able to stay on track."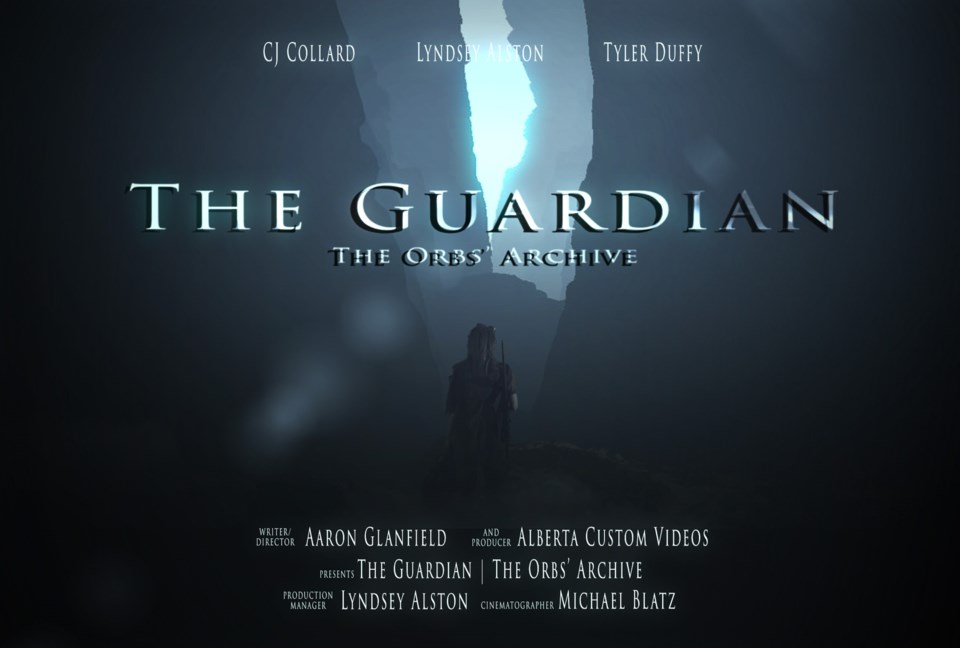 The film was shot over four days, Glanfield said, but was only a small part of giving tangent to his vision.
"The easiest part of filming is always the filming," he said. "What you're doing pre-production and post-production is what takes all the time."
Even though the film is a ten-minute concept, aimed at pitching to larger production houses, it was labour-intensive nonetheless.
"We've been preparing for months beforehand, writing scripts, running a shot list, and then doing costume design, makeup, and getting the visual effects ready," Glanfield said. "Just making sure that's all planned out, so when you're shooting you don't come back afterwards and realize your shots don't work.
That adds up to a significantly long process, done mostly in free time as they work day jobs — Glanfield works in the medical supply field.
The filmmaker had been fomenting the story for some time before putting thoughts into action.
"I was just driving to Saskatchewan one day and this idea kind of came to my mind while I was driving alone in the truck for seven hours, and so that's kind of where it spawned from," Glanfield said.
"This has kind of been something I've been into for several years. Growing up I'm sure my teachers thought I had ADD because I had a hard time paying attention, stories were just running through my head all the time.
"As I got older, I'm working in a professional field, but at the same time it's something I still do on the side and looking to make it happen some more."
The film was primarily shot in small town Alberta.
"We had three places where we shot, one was Raymond, at the old sugar beet factory there, and then the town of Champion was gracious enough to let us use their downtown road and film some of their buildings in the backdrop," Glanfield said.
A couple scenes, however, were also shot on green screen in Glanfield's garage in Okotoks, with the backdrops being crafted in the Unreal 5 game engine.
The engine, originally built by developer Epic Games for video games, has been used for 3D backdrops in high-end productions such as The Mandalorian, and its ease of use has democratized computer-generated effects for independent filmmakers such as Glanfield, who end up wearing several hats.
"As an indie filmmaker I had a lot of help in pre-production, but once it came to post-production, I had to take the wheel and kind of do everything myself," he said.
"It's good to learn so eventually when I do work with effects artists or sound designers I kind of understand what they're looking at, where they're coming from, and can speak intelligently to what they're doing."
Despite the workload, the filmmaker was satisfied by the end of the project.
"It's simply incredibly fulfilling. I've enjoyed the process," Glanfield said. "There's parts I don't enjoy so much, but for the most part I really enjoy the process, the creation part of it.
"As the time comes for the screening, I'm excited, but also hoping people like it."
The film will be screening at Okotoks Cinemas on Feb. 2 at 8 p.m. and Feb. 5 at 9 p.m.
To attend one of the screenings, email Aaron Glanfield in advance at sales@albertacustomvideos.com