Two exhibits coming to the Okotoks Art Gallery will offer new takes on nature around us.
Opening Jan. 15 are exhibitions of work by Calgary artist Ann Mansolino and Monique Martin of Saskatoon.
Comprised of handmade books constructed in designs and mediums relevant to the contents, The Book is the Land is the Self delves into the connection between the natural world and how it relates to one's self.
"I'm using creative bookbinding forms that reinforce the content of the books," said Mansolino. "I look at the internal sense of self or identity and external ideas of place, so a lot of them are looking at ideas of landscape and that natural environment and the way those things help us understand ourselves.
"Looking at landscape as metaphor for our emotions, as well as our literal relationship to nature and the larger world we inhabit."
Considering the physical book as much a part of the art as the contents was a mission for Mansolino.
"I would like viewers to begin to think about the ways books can function as art — I think often books are seen as just a container for content," she said.
As an exploration of the concept, Mansolino actually walked through Waterton National Park, near the U.S. border where Glacier National Park is.
"I'm using these experiences in the landscape as a way of getting to internal experience, and looking at how we relate to land, but also using them as metaphors for growth and change and identity," she said.
While initially trained as a photographer, Mansolino's craft has become as much about the materials as the content, often delving into other disciplines.
"Sometimes it involves research into geology or history, and so I'm writing about these experiences in a kind of lyrical, poetic way," she said. "And then coming up with book forms that have photographs and the text and the books all together."
One such book pertains to the photographer's experiences walking on a glacier.
"It is in the form of a glacier and it unfolds as if it is a mountain, with different elements of it receding into the distance," Mansolino said. "So not just standard books you've read, but things in which the form and the content are creative and more sculptural."
As patrons can not pick up the books and flip through them as they could before COVID, Mansolino has crafted multiple copies, with important segments on display of each.
"We needed to come up with how they can be set up on display so that it can be understood to the greatest extent possible," she said.
"They're going to be more like sculpture objects, which makes it good that some of them unfold in more of an accordion fold that can be spread out so all the content can be seen at once."
Others come with supplementary items that will be arrayed around the book.
Martin's Annus Mirabilis takes a different route to turning common conceptions of nature on their head.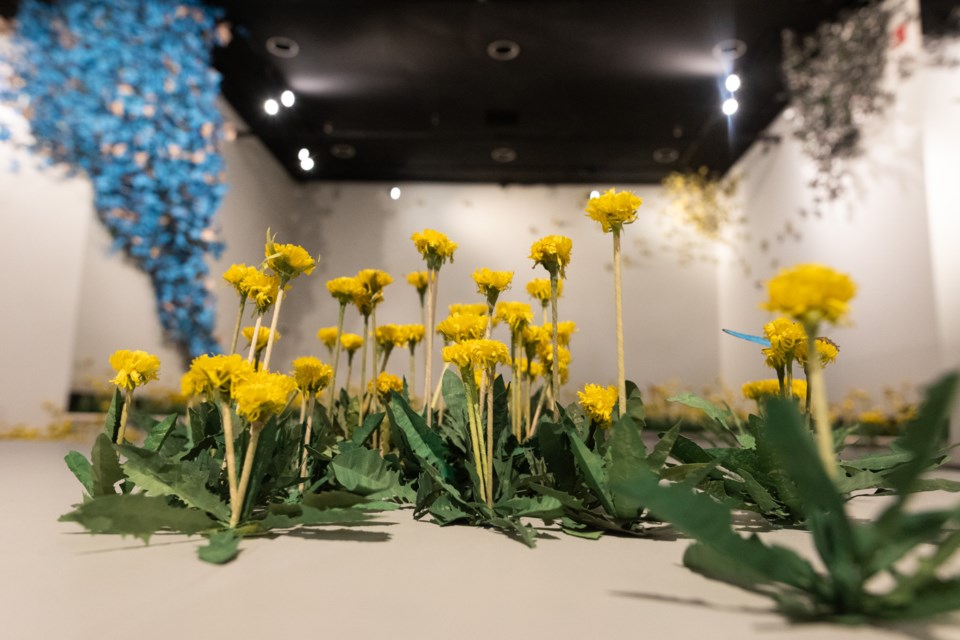 The initial feature of Martin's work on display consists of 3,000 paper dandelions.
"The dandelion is really a symbol of resilience and perseverance and not giving up," said Martin, adding the exhibit has been travelling throughout the pandemic. "So it's been the perfect exhibition to travel across the country."
Each and every flower is handmade from paper, using silkscreen linocut techniques, the artist said, adding viewer response has been positive.
"They're really moving for people, people really connect with a dandelion," Martin said. "Now I get messages like 'Oh, I saw a dandelion and I thought of you.' Or 'Before I would have pulled a dandelion out right away but now I let it bloom.'"
"I think that change in the symbol of the dandelion has been very powerful, and hopefully it's the same in Okotoks."
A second component to Martin's exhibition is titled Annus Mirabilis.
"It means 'a notable year' and of course, we've all had a notable year and then again, another notable year," said Martin.
The spectacle will offer another take on nature, and how people relate.
"I have made thousands and thousands of paper butterflies," Martin said. "And there's seven or eight different butterflies and they're going to cover the ceiling, so the exhibition can actually be viewed from the floor so people can lay on the floor or look up to see the exhibition, which is a different way of viewing artwork.
"They'll be laying amongst the paper dandelions, so it's going to be a very immersive experience. It's just a bit of a different feel."
This experience, Martin added, is a look at how people have had to adapt to their changing conditions.
"The whole exhibition is really about metamorphosis and how we've all had to change during the pandemic, but change can also be good because we can start to re-evaluate like, 'Did I really need this in my life? Did I need to be doing this? Do I have a better life and am I living healthier now?'' Martin said.
"Just the awareness that we're all kind of part of the global chain in the world. We are so interconnected that we affect everyone and I think that's a huge change for everyone.
"We've transformed to understand our impact on other people, which I think is huge, whereas before we could move around quite insular in our world."
Both exhibits are on display from Jan. 15 to Feb. 25.