A group with a sustainable vision for Turner Valley and Black Diamond is looking for space to facilitate the upcycling of waste materials locally.
The members of the Diamond Valley Sustainable Living Centre are hoping they can move into the Oilfields Recycling Centre if the town decides to shut it down. The recycling centre is a joint operation between the towns of Black Diamond and Turner Valley, which are both switching to curbside pickup of recyclables and compost early in 2022.
Both towns have not decided what will happen with the recycling building when curbside recycling pick-up is implemented.
Dusty Williams, a member of the Sustainable Living Centre, said they want the towns to know they are interested in using the space for a makerspace and education centre.
The group has been in the works for more than a year-and-half and recently was designated a not-for-profit.
The Sustainable Living Centre will focus on education, food, water and energy security, and the re-use and upcycling of waste.
Williams has been building equipment for upcycling plastics and the group is now looking for a space where they can teach people about environmental sustainability and give them a place to re-purpose waste.
"We have a vision for a self-sustaining community," he said.
Materials like glass and some plastics shouldn't have to leave the community, he said.
"It is better to be re-purposed here than being sent somewhere where it is not dealt with in a healthy way or isn't dealt with at all," he said.
Williams has built a plastic shredder and extruder and has a plastics 3D printer that is used to create new things out of certain plastics. He also has plans to build more machines that can take recyclables and turn them into useful items again.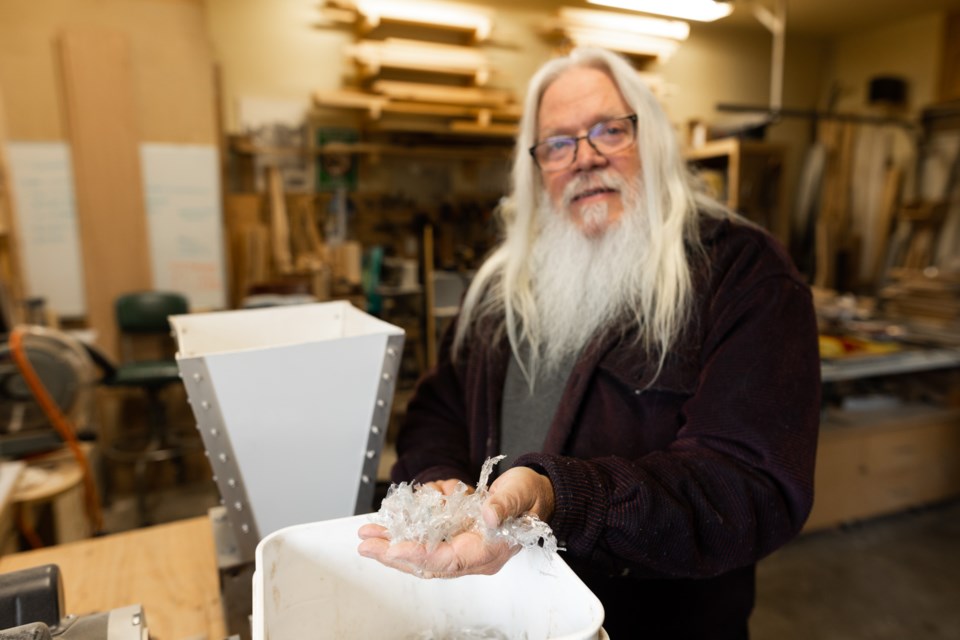 Currently, he has 23 ideas for stations in the makerspace, including a cardboard 3D printer, glass crusher, a spot to weld and a flat press to make sheets of plastic.
The makerspace will start out with the 3D plastic printer and a woodworking station and they will add more over time and as Williams creates new machines, he said.
Larry Kapustka is the president of the Diamond Valley Sustainable Living Centre.
Other areas of interest, he said, will be teaching people to grow their own food, compost and preserve their food. They have developed prototypes for a solar oven and food dehydrator.
Their efforts also include working with Oilfields High School teachers and students to grow and compost food and are hoping to build a greenhouse adjacent to the school.
Kapustka said the food grown by high school students will provide year-round food for the school's cafeteria and could also go to the local food bank.
"Our mission is to nurture a community that lives an environmentally regenerative and socially just lifestyle," he said.