Okotoks' Dewdney Players is up for a long list of nominations this year.
The 2022 Community Theatre (CAT) Awards, recognizing productions not only from 2022, but also those going back to July 2020, announced 110 nominations across 20 categories.
Of that, Dewdney has 17 nominations across four shows, with its playing of L.M. Montgomery's Anne of Green Gables up for 10, I Take This Man with four, Cereal Offenders with three and Every Brilliant Thing up for one.
"It's so exciting. We're thrilled to have been recognized with so many nominations this year," said Dewdney president Dayna Coles.
"Of course, it's always nice to recognize our actors, our crew members, and all our volunteers that make our production come to life.
"It's just kind of a nod to all the talent we have in Okotoks and the Foothills."
Its most recent performance, Cereal Offenders, is up for Outstanding Performance by a Chorus/Ensemble in a Play.
As the playwright debut for Dewdney mainstay Mark Huolt, the show featured a dysfunctional array of cereal mascots unpacking their baggage as they peeled back the veneer of decades in the world of advertising.
"I appreciate the nod for that," Huolt said, thanking his cast.
"It truly was an ensemble effort, it isn't like most stage plays out there; everybody rolled out on stage and stayed there the entire time.
"There were a lot of difficult moments along the way, we touched on some difficult stuff."
Also nominated for Outstanding Performance by a Leading Role in a Play is Anne-Marie Cotton, for her bombastic performance of Gideon in I Take This Man, where she dubiously acquires a man found unconscious at the Boston Marathon (hilarity ensues).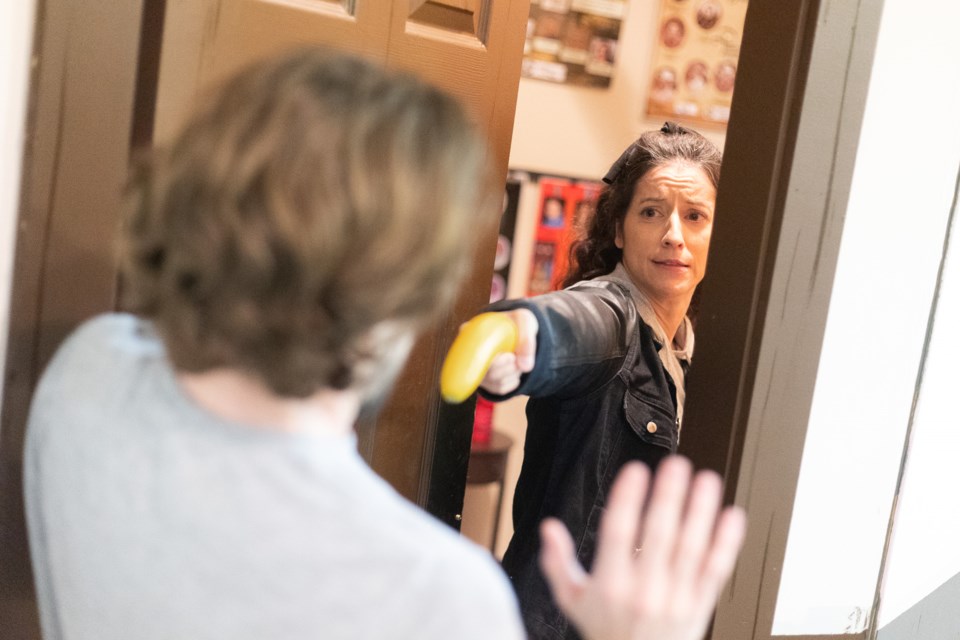 "It feels great because that means when people came to see the show, it means they absolutely enjoyed it," Cotton said, stressing her gratitude for the whole production team.
"We all just played really well together as a group, I think that's why everybody did such a fantastic job.
"You can tell that it's a passion, everybody who's a part of Dewdney, whether it's on the board, backstage, or in the cast, it just shows how much passion everybody has in a smaller community such as Okotoks."
The CAT Awards celebrate the best of community theatre in Calgary and neighbouring communities. This year's nominations were announced on July 21 and the CAT awards ceremony takes place Aug. 27.
The full list of nominations are as follows:
Outstanding Performance by a Leading Role in a Musical
Austin Battung Arnaldo as Rat - The Wind in the Willows - Untold Stories & Morpheus Theatre
James Chandler as Mole - The Wind in the Willows - Untold Stories & Morpheus Theatre
Mike Duncalfe as Mr. Toad - The Wind in the Willows - Untold Stories & Morpheus Theatre
Kyle Gould as Abel - The Pirates of Penzance - Morpheus Theatre
Caitlin Karpetz as Victor / Victoria Grant - Victor/Victoria - Front Row Centre Players
Evangeline Mably as Frederique - The Pirates of Penzance - Morpheus Theatre
Ginette Simonot as The Pirate Queen - The Pirates of Penzance - Morpheus Theatre
Outstanding Performance by a Leading Role in a Play
Christopher Baker as Matthew Cuthbert - L.M. Montgomery's Anne of Green Gables - Dewdney Players
Stephen Buoninsegni as Narrator - An Evening of One Act Plays - Every Brilliant Thing - Dewdney Players
Anne Marie Cotton as Gideon - I Take This Man - Dewdney Players
Nathan Crockett as Brian Runnicles - No Sex Please, We're British - Morpheus Theatre
Christopher Ford as Peter Hunter - No Sex Please, We're British - Morpheus Theatre
Lucie Killam as Anne - L.M. Montgomery's Anne of Green Gables - Dewdney Players
Mandee Marcil as Astra Beaux - Ungentlemanly Warfare - Scorpio Theatre
Brenda Merkley as Marilla Cuthbert - L.M. Montgomery's Anne of Green Gables - Dewdney Players
Mya Swedburg as Constance Ledbelly - Goodnight Desdemona (Good Morning Juliet) - Morpheus Theatre
Outstanding Performance by a Supporting Role in a Musical
Aaron Bartholomew as Sergeant of Police - The Pirates of Penzance - Morpheus Theatre
Aubrey Baux as Gilbert Blythe - Anne of Green Gables - The Musica - Swamp Donkey Musical Theatre
Chelsea Fellows as Norma Cassidy - Victor/Victoria - Front Row Centre Players
Yaz Ben Lamin as Chief Weasel - The Wind in the Willows - Untold Stories & Morpheus Theatre
Becky Salmond as Mrs.Otter - The Wind in the Willows - Untold Stories & Morpheus Theatre
George Thomson as Rick - The Pirates of Penzance - Morpheus Theatre
Hannah Unterschultz as Norma Cassidy - Victor/Victoria - Front Row Centre Players
Outstanding Performance by a Supporting Role in a Play
Claire Hoyer as Charlene - I Take This Man - Dewdney Players
Jen White (Leclaire) as Belinda Cratchit, Belle & others - A Christmas Carol - A Radio Play - Morpheus Theatre
Kaelan McKernan as Gilbert Blythe - L.M. Montgomery's Anne of Green Gables - Dewdney Players
Stephanie Morris as Jill, Juliet, Soldier - Goodnight Desdemona (Good morning Juliet) - Morpheus Theatre
Rylan Nilsson as Tom Delaney - Opening Night - Confederation Theatre
Taylor Schell as Dianna Barry - L.M. Montgomery's Anne of Green Gables - Dewdney Players
Adena Warren as Marie - Ungentlemanly Warfare - Scorpio Theatre
Outstanding Performance by a Chorus/Ensemble in a Musical
35mm: A Musical Exhibition - Cappuccino Musical Theatre
Robin Hood & His Merry Men - Morpheus Theatre
The Pirates of Penzance - Morpheus Theatre
The Wind in the Willows - Untold Stories & Morpheus Theatre
Victor/Victoria - Front Row Centre Players
Outstanding Performance by a Chorus/Ensemble in a Play
Cereal Offenders - Dewdney Players
Goodnight Desdemona (Good Morning Juliet) - Morpheus Theatre
L.M. Montgomery's Anne of Green Gables - Dewdney Players
No Sex Please, We're British - Morpheus Theatre
Team Building Day - Grid View Theatre & Urban Stories Theatre
Ungentlemanly Warfare - Scorpio Theatre
Outstanding Stagecraft
Bill Brown, Jason Bakaas and Heather Skulski - The Wind in the Willows - Untold Stories & Morpheus Theatre
Bill Brown and Mike Johnson - The Pirates of Penzance - Morpheus Theatre
Jamie Eastgaard-Ross, Mikee Ames, Jody Low and Krista Willott - Victor/Victoria - Front Row Centre Players
Nicola Payton with Matthew Payton and Sue Gothard - L.M. Montgomery's Anne of Green Gables - Dewdney Players
Harlan Sterner, Colleen Bishop and Rebecca Iles - Ungentlemanly Warfare - Scorpio Theatre
Outstanding Costume Design
Trish Babkirk - I Take This Man - Dewdney Players
Christie Johnson and Miranda Humphrey - The Pirates of Penzance - Morpheus Theatre
Christie Johnson and Britta Siemens - Robin Hood & His Merry Men - Morpheus Theatre
Britta Siemens and Ian Riep - The Wind in the Willows - Untold Stories & Morpheus Theatre
Winnie Tran and Christian Morneau - Victor/Victoria - Front Row Centre Players
Outstanding Lighting Design
Char Brydges and Bryan Smith - 35mm: A Musical Exhibition - Cappuccino Musical Theatre
Charlene Brydges and Jody Low - The Wind in the Willows - Untold Stories & Morpheus Theatre
Makenna Clarke - Robin Hood & His Merry Men - Morpheus Theatre
Makenna Clarke - The Pirates of Penzance - Morpheus Theatre
Kathryn McLaren - Victor/Victoria - Front Row Centre Players
Elizabeth Schieman - Ungentlemanly Warfare - Scorpio Theatre
Outstanding Engineering/SFX (Musical)
Allison Baillie - The Wind in the Willows - Untold Stories & Morpheus Theatre
Steve Eastgaard-Ross - 35mm: A Musical Exhibition - Cappuccino Musical Theatre
Quinn Hawse - Robin Hood & His Merry Men - Morpheus Theatre
Ross Wilson - Victor/Victoria - Front Row Centre Players
Outstanding Soundscape (Play)
Sarah Glubish - Team Building Day - Grid View Theatre & Urban Stories Theatre
Bruce Petherick - A Christmas Carol - A Radio Play - Morpheus Theatre
Bruce Petherick - Goodnight Desdemona (Good Morning Juliet) - Morpheus Theatre
Bruce Petherick - Murder, if you Will - Morpheus Theatre
Bruce Petherick - Ungentlemanly Warfare - Scorpio Theatre
Ben Seders with Reg Gothard & Matthew Payton - L.M. Montgomery's Anne of Green Gables - Dewdney Players
Outstanding Technical Execution of an Online Production
A Christmas Carol - A Radio Play - Morpheus Theatre
Murder, if you Will - Morpheus Theatre
Resort to Murder - Morpheus Theatre
Scorpio Tonight - Scorpio Theatre
Team Building Day - Grid View Theatre & Urban Stories Theatre
The Big Sleepover - Scorpio Theatre
Outstanding Direction of a Musical
Jason Bakaas and Gad Gijon - The Wind in the Willows - Untold Stories & Morpheus Theatre
Matt Dewald - Victor/Victoria - Front Row Centre Players
Paige Fossheim - The Pirates of Penzance - Morpheus Theatre
Trisha Gizen and Melanie Baux - Anne of Green Gables - The Musical - Swamp Donkey Musical Theatre
Chelsea Hall - 35mm: A Musical Exhibition - Cappuccino Musical Theatre
Outstanding Direction of a Play
Sean Anderson - A Christmas Carol - A Radio Play - Morpheus Theatre
Colleen Bishop - Goodnight Desdemona (Good Morning Juliet) - Morpheus Theatre
Colleen Bishop - Ungentlemanly Warfare - Scorpio Theatre
Jay Newman - No Sex Please, We're British - Morpheus Theatre
Chloe Payton with Dayna Coles - L.M. Montgomery's Anne of Green Gables - Dewdney Players
Outstanding Musical Direction
Lurene Bates - Victor/Victoria - Front Row Centre Players
Rejean Campbell - Disney's Beauty and the Beast - The Painted Fish Performing Arts Society
Winnifred Hume - The Pirates of Penzance - Morpheus Theatre
Michael Jarzecki - 35mm: A Musical Exhibition - Cappuccino Musical Theatre
Melvin Picazo - The Wind in the Willows - Untold Stories & Morpheus Theatre
Outstanding Choreography
Kym Butler - Victor/Victoria - Front Row Centre Players
Gad Gijon with Holly Walker - Robin Hood & His Merry Men - Morpheus Theatre
Karen Iwanski - The Pirates of Penzance - Morpheus Theatre
Angela Woodard - The Wind in the Willows - Untold Stories & Morpheus Theatre
Outstanding Fight Direction
Rico Pfeiffer - Goodnight Desdemona (Good Morning Juliet) - Morpheus Theatre
Rico Pfeiffer - Ungentlemanly Warfare - Scorpio Theatre
Ian Pond - The Pirates of Penzance - Morpheus Theatre
Ian Pond - The Wind in the Willows - Untold Stories & Morpheus Theatre
Outstanding Original Script or Adaptation and/or Composition
Dan Gibbins - Ungentlemanly Warfare - Scorpio Theatre
Kyle Gould (adapted by), with Stephanie Barnfather, Ben Coburger, and Winnifred Hume - The Pirates of Penzance - Morpheus Theatre
Mark Huolt - Cereal Offenders - Dewdney Players
Outstanding Production of a Musical
Anne of Green Gables - The Musical - Swamp Donkey Musical Theatre
Robin Hood & His Merry Men - Morpheus Theatre
The Pirates of Penzance - Morpheus Theatre
The Wind in the Willows - Untold Stories & Morpheus Theatre
Victor/Victoria - Front Row Centre Players
Outstanding Production of a Play
A Christmas Carol - A Radio Play - Morpheus Theatre
Goodnight Desdemona (Good Morning Juliet) - Morpheus Theatre
I Take This Man - Dewdney Players
L.M. Montgomery's Anne of Green Gables - Dewdney Players
Ungentlemanly Warfare - Scorpio Theatre