Lisa Branch has been involved with Operation Christmas Child for years.
It began when she and her husband were newly married and went with their church group to a distribution centre — where all of the shoeboxes from the area are collected for inspection.
Branch, now the logistics co-ordinator for the Foothills chapter of the program, explained the process involves checking to make sure that all items in the box are permitted and won't cause harm — things like candy and gum aren't allowed as they can melt — as well as ensuring the box is as filled to the brim with items as possible.
"Our experience with volunteering at the warehouse, it opened our eyes to how to pack a really great box — make use of all of the space inside, how to be creative with it," she said.
Operation Christmas Child began as an initiative 27 years ago, when the first shoeboxes were sent to Bosnia following the war, said regional manager for Alberta, Yukon and the Northwest Territories, Janet Sales-Runnalls.
"It became quickly very obvious that this was something that really resonates with the hearts of people to be able to bless kids in difficult situations," she said.
It has continued since then and grown massively in scale. The Evangelical Free Church in Okotoks, which operates as a drop-off centre for the area, collected 1,451 boxes last year and in High River, 798 boxes were packed.
Together the Foothills region donated 2,249 boxes in 2020, according to area manager Janette Mercer.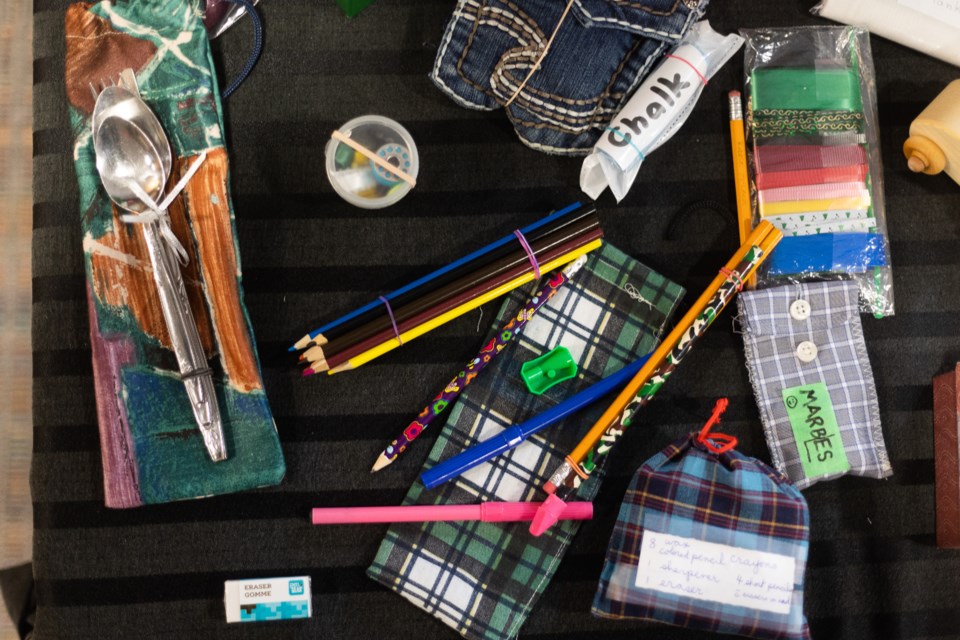 Online boxes were a popular part of the initiative last year, given complications and concerns surrounding the COVID-19 pandemic. In Canada, 58,000 online boxes were packed last year.
Across the world, 9.1 million boxes were packed in 2020, Sales-Runnalls said.
The program encourages people to fill a shoebox with items for a child in a developing country. Boxes are divided by gender and age group and can include hygiene items, school supplies and toys.
The online box works in a similar way but enables someone to do the process entirely virtually, without having to leave their home to shop.
Once boxes are inspected, they are sent to countries with which the organization has a memorandum of understanding. Canada has agreements with eight countries, Sales-Runnalls said.
Individuals in the receiving community are made aware of the box delivery and organize a sort-of party for local school and church children, where they are presented with the container filled with items.
"It gives them an opportunity to know that they're not forgotten," she said.
Packers are often encouraged to write letters to go with their boxes, telling the child about themselves and sometimes even including a photo or an email address.
"[The children] are told that there is somebody out there in the world that loves them and who packed this box specifically for them," Branch said. "In my letters, I put my email address and I've actually gotten emails from Senegal, [from] people getting my box and being able to connect and say, 'thank you for that.'"
As Branch and her husband became more involved with the project in the early years of their marriage, the pair was determined to carry that passion to their children.
She explained that when her children were young, birthday parties were all-inclusive — every classmate would be invited to the gathering.
"We didn't need presents from her whole class of kids," Branch said in recalling organizing her oldest daughter's birthday party.
Instead, she organized a shoebox-packing party and encouraged parents and their kids to bring along items that would work to pack in the boxes to send overseas.
"The parents were so generous; they loved the idea. We were able to fill 20 boxes at a birthday party and send those out," Branch said.
The packing party became a sort-of tradition for the Branch family and became a way that Operation Christmas Child could stay front of mind.
"It's just kind of become part of our family and what we do every year," she added.
When her youngest daughter was nine-and-a-half — just under the minimum age allowed to accompany a trip — Branch said she reached out to Samaritan's Purse about attending a distribution trip with her family.
"We thought, 'How can we involve our kids in our heart for love, adventure, and impact?'" she said. "And to go out and be able to show them that life is different in other countries and to really appreciate what they have, but also to serve and to love on other people."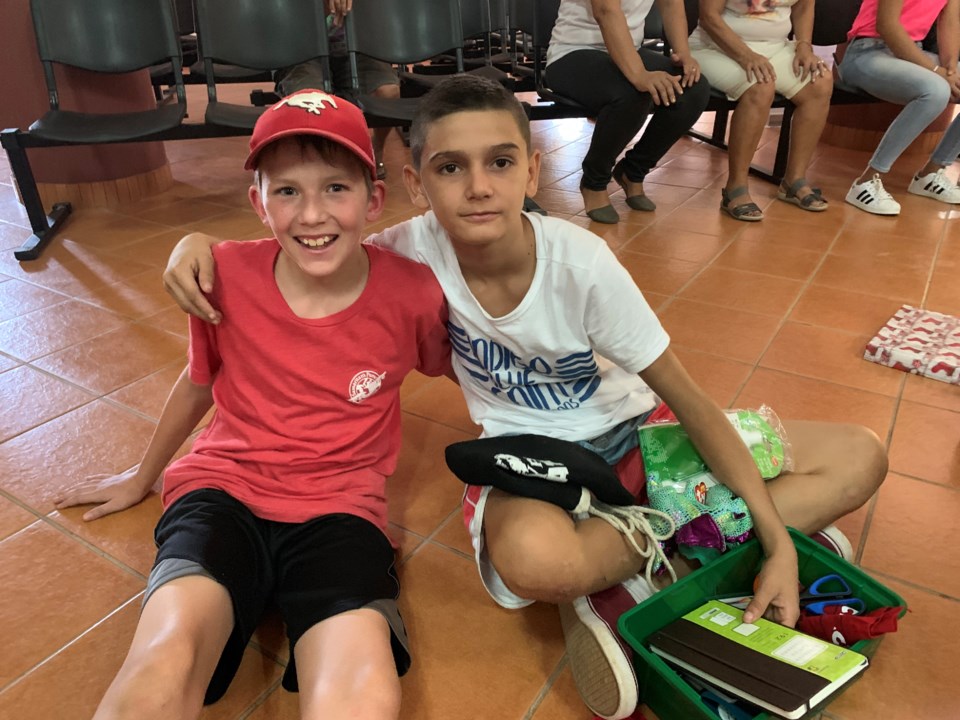 The family of five eventually went to Costa Rica to aid on the mission along with seven other families a few years ago.
Branch said they didn't have any specific duties, but rather they were helpers for whatever the locals needed.
This could be playing with the kids, interacting with parents and educators or assisting in box presentation, she said.
"We were just there to serve," Branch said.
She recalled a few particular moments that she felt touched while serving and noted it showed her children connection and understanding with people in different situations, speaking different languages.
Someone would pull out a ball and all the boys and men would run and holler in camaraderie, she said. They had also brought nail polish with them on the trip and were able to bond with the women and girls as they gave them manicures in their favourite colours.
"There's no age limit to being able to love on somebody," she said.
"Our hope was that our kids would continue to pack great boxes, understand the impact that some of the things would have to children in other areas and just to continue on investing their time and talents into something that is so impactful," Branch added and explained that her children sat with the local kids while they opened their gifts.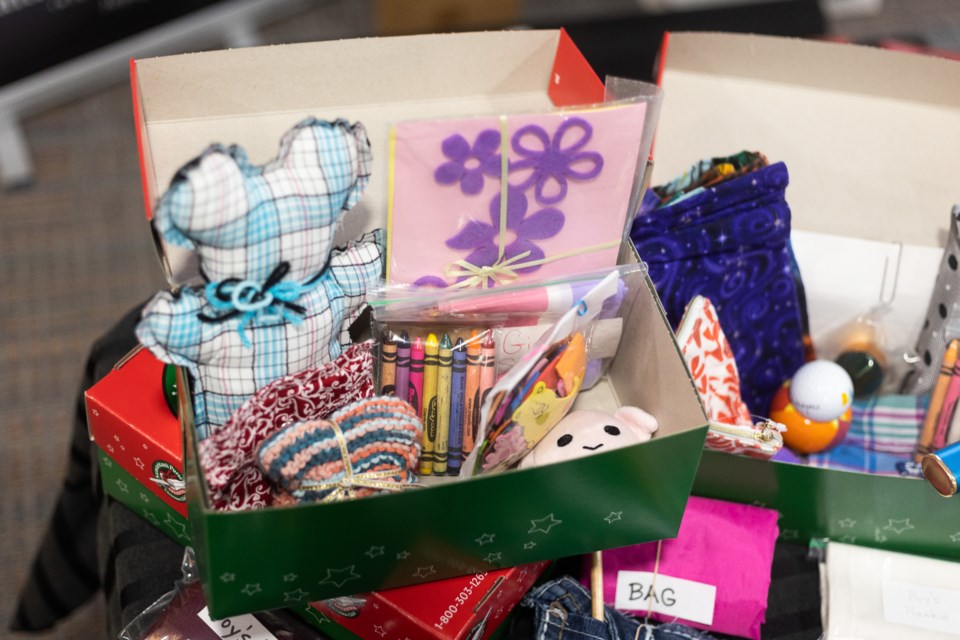 Mercer, the Foothills area manager, explained she has packed boxes for years but became more involved with Operation Christmas Child when her grandchildren were old enough to help with picking out items and packing the boxes.
One year, they had made a trip to the distribution centre by the Calgary International Airport and were greeted by a friendly employee who offered to give them a tour.
Mercer said the employee did a great job explaining to the girls what was going on and how everything worked, piquing their interest at a very young age.
"They started asking if they could bring friends. So, every year, they would bring a different friend," she said. Since then, Mercer's granddaughters — now 17 and 19 — have organized numerous packing parties for their friends and continue to volunteer at the processing centre, just as Branch and her husband did — inspecting and doctoring up boxes before they head on their travels.
Mercer said one of her granddaughters is also involved in youth ministry and has been bringing Operation Christmas Child to those kids as well.
"They're teaching other children how to help kids in faraway lands too," she said. "That generation is now doing what we did. It's important."
Though the formal packing and collection period for the year has passed, Sales-Runnalls emphasized that boxes can be packed year-round, and a box is never denied.
Many people think of Operation Christmas Child as a seasonal initiative and while the holidays are the busiest time for the organization, the work never stops and donations are always welcome.
For more information about the initiative, or to pack a box online go to packabox.ca.