Planning five steps ahead is part and parcel of any good catcher behind the plate.
Luke Reiten, a former battery member with the Okotoks Dawgs Academy and later the Calgary Bucks organization, has traded his baseball cleats for a video camera as the founder of Why Not Productions.
"The big thing with all of those is not only growing into a good ball player, if that's what you want to pursue, but the biggest thing with both organizations were pushing was above all becoming a good man," said Reiten, 18. "That's something my dad pushes, my family pushes and both organizations pushed.
"I wouldn't be the same person if it wasn't for the Dawgs or for the Bucks."
Some of those lessons accumulated through sports have proven invaluable in business.
Don't stop when it's hard, for example.
"You're going to have hard times when you're playing ball," he said. "If you're in a 10-game slump, it's tough to get out of, but you've got to practise and push your way through, but you've got to practise well.
"The thing with video is it's a very saturated market, but it's not saturated market with amazing talent so if you're the guy that can find a niche, find something that's missing then you've found your thing.
"That's what I've found with my business, I found something that wasn't being covered as well as it could be and brought my own spin to it."
After 11 years of baseball, Reiten decided it was time to focus on the next chapter in his life and what would follow his 2022 graduation from Joane Cardinal-Schubert High School.
"I went back to my roots," he said. "Just thinking what makes me happy? That's entertainment, that's making people smiles, that's doing the best I can to blow people's minds."
Reiten picked up the entertainer bug at an early age through youth church groups before starting his first business at the age of 12 as a magician.
"Entertainment, making people smile is a big thing for me," he said. "I was too young and not funny enough to do stand-up comedy, which is what I wanted to do, but didn't really have the talent or drive.
"The next best thing I thought was magic shows."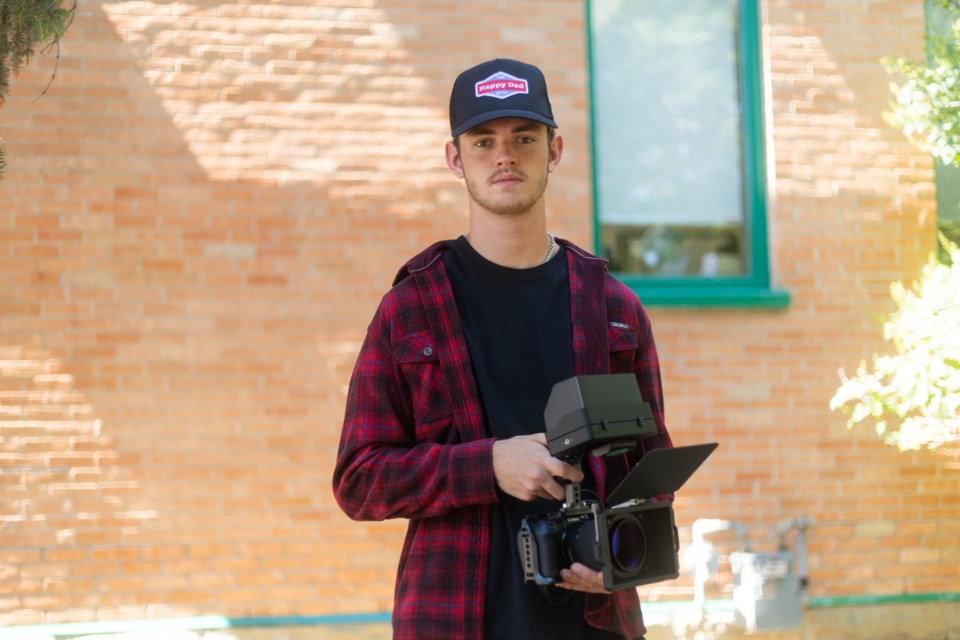 After going to a magic camp, earning reps and experience, the then preteen did 40 shows for birthdays, restaurants and theatres.
"You've got to work for what you want and love what you do," he said. "That's why I'm pursuing this even more because this is something I want to do."
After some self-reflection, the entertainer discovered he would prefer to be on the other side of the camera.
Through trial and error, the limited capabilities of still-frame pushed the business-minded teen into the world of video.
"I realized photography can only show a story so much," he said. "I think that video can just show so much more and can create a feeling in someone."
Reiten began to craft promotional videos around the house, learning the ropes of manipulating the camera to achieve different results and tell a story from another angle.
"I realized I could turn this into my own business," he said.
He didn't have to look far for inspiration and wisdom.
His dad Aaron runs a landscaping company and sister Chelsea has set up her own tattoo business.
"My dad has really shown us that entrepreneurial side and how having a business can be tough and showing us the ropes," Reiten said.
Reiten launched the business a year ago, with a lot of help from his friends.
"Me and my buddies were talking about a Youtube channel and if we ever wanted to make one," he said. "And I was like, 'Why not?' We could just make one and it kind of just stuck."
It wasn't slight of hand that got the former magician to make in-roads with his business, instead a combination of finding a hole in the market, crafting a plan and networking like there's no tomorrow.
"I started doing more and more and reached out to other places, bars, clubs, anything I could get my hands on," he said. "I said 'I'll do some stuff for free, if you like my work, I would love to work with you.'
"From there it went pretty good for me, I got a lot of work."
Many of the clientele are looking for promotions through social media, with Reiten using his expertise in crafting content with quick, entertaining videos.
"I talk to them about what they want to push, what they want to show and just take my knowledge of social media," he said. "We're open to anything you throw at us, we do car promotional, business promotional, more club upbeat, fun kind of stuff that people want to see."
Reiten got to be part of the production at the Cowboys tent music festival during the Calgary Stampede with a couple of videos put together.
The 18-year-old will be beginning his studies at the Vancouver Film School, one of the top institutions in the discipline in North America, next year.
From there, he wants to set a course for where the stars shine brightest with a few contacts and experiences in Los Angeles to date.
"You've got to love what you do," he added. "The biggest reason I'm doing what I do is I don't want to be doing a job for the rest of my life that I hate.
"You could hate what you do and you're not taking any risks, but if you take a risk to do what you love, it might just work out for you."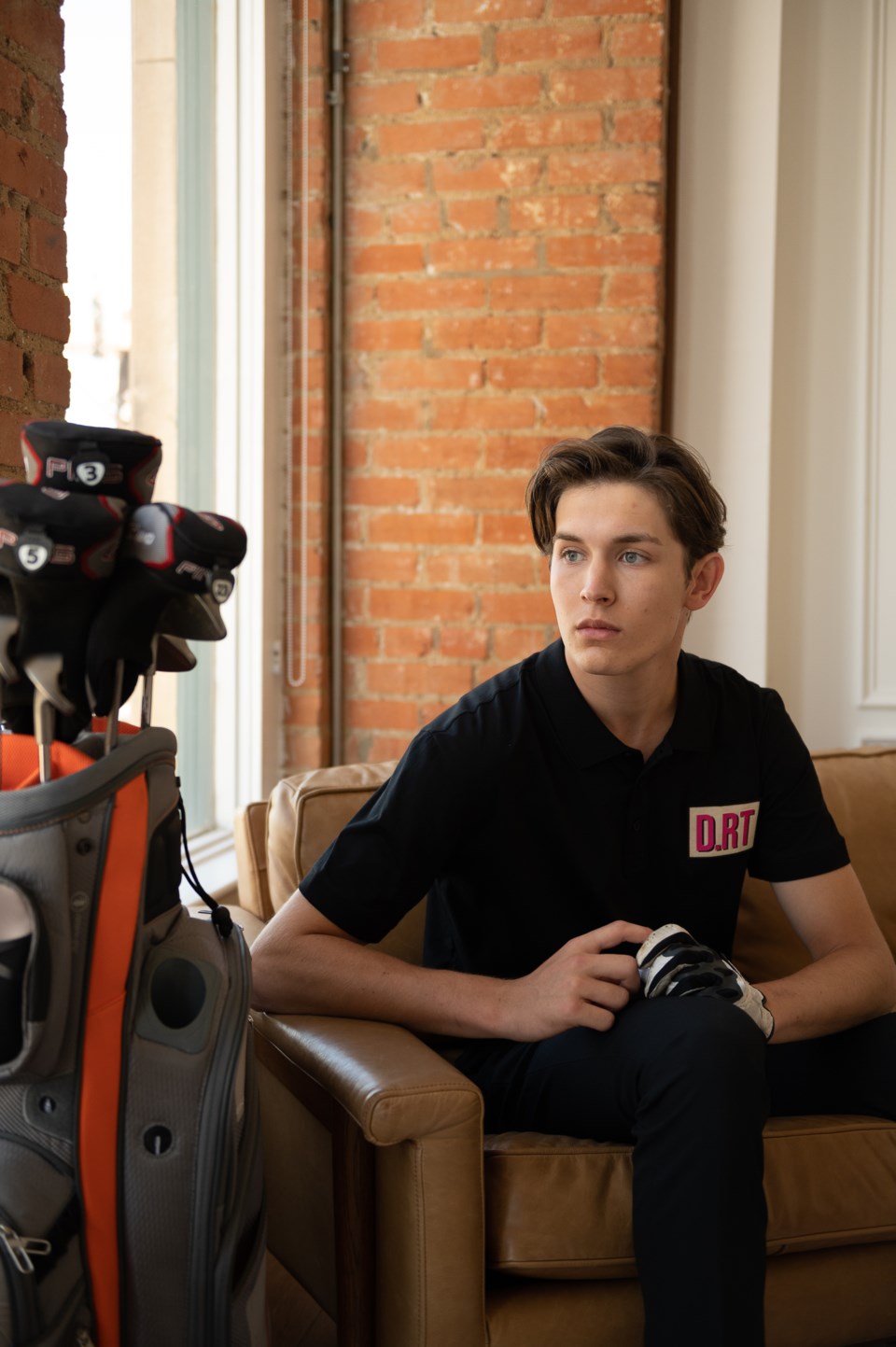 Functional fashion
Hockey parents know all too well the joys of a growing athlete needing new equipment seemingly every year.
For Okotokian Dylan Thompson, co-founder of d.RT Clothing, the same applied to outerwear.
"The idea for d.RT came from me and my sister sitting around our coffee table," he said. "I was in about Grade 7 and I was going through a lot of growth spurts at that time so I was growing through clothes quite quickly.
"In hockey, I was required to wear a suit and would be going through one or two suits a year."
That's where the idea to craft a suit that could grow with you came to life.
"And the rest of the brand really branched off that," he said.
From concept to reality, the company founders took steps to make the concept a reality. Over two years, extensive research was conducted on how to start a brand, as well as everyone and everything needed to put them in the right direction.
d.RT, which launched on Nov. 1, 2020, is a Texas-based company, with Thompson commuting back-and-forth for work.
"It was a lot of travelling," he said. "A lot of meetings talking to a lot of different agencies, trying to develop this idea for a suit that could grow with you.
"It was going in open-minded, in a way, and ready to learn because we didn't know a lot about this industry so we had to learn as we went."
Fortunately, he got a bit of a head start on the world of business from his father Bob.
"My whole life, he has been in business and growing up I always got to sit in the office or sit in on meetings with him," he said. "I watched him watch his businesses, how he does his work and so definitely a lot of our knowledge in terms of business, and how we run our companies, that comes from our father."
Thompson's sense of fashion came from his family as well from half sister Paula Brunson, the co-founder of d.RT along with her husband Brian.
"She would always help put little outfits together for me," he said. "She taught me what it was to match your clothes and a lot of the basics for how I dress myself today.
"Me and her have had a pretty good relationship our whole lives so it's really great that I get to pursue this journey with her."
Like any business that manufactures goods, shipping to different markers overseas has been a challenge over COVID.
"There was just a lot of delays with shipping due to a lack of workers because of COVID," he said. "I think that was probably our biggest struggle, figuring out how we were going to move around that obstacle."
Fittingly, the adjustable clothing company pivoted and has found a foothold in a couple major department stores — Nordstrom and Miami Showfields.
"All the feedback we've had so far, everybody loves the suits," he said. "For one, they're also machine washable and wrinkle resistant so it's really comfortable material.
"It didn't take too much convincing, people really jumped on the idea right away."
Closer to home, d.RT is also putting together apparel, including track suits for all of the teams, for Okotoks Minor Hockey Association and the Okotoks Oilers Athletic Association.
It's a full-circle moment for the Okotoks minor hockey product.
"We'll be doing a lot of track suits for those teams and soon we'll be in Source for Sports in Okotoks as well," he said. "It's pretty cool, I grew up playing hockey in Okotoks and the biggest thing for me is to be able to give back to my community and, in a way, do my part to help an association that helped shape me into the person that I am today."
Thompson, who cited the importance of teamwork as one of the biggest crossover skills from sports to business, will remain on the frontlines of athletic apparel.
The defenceman is headed to Lawrence Tech University on a hockey scholarship with the Blue Devils, who compete in the American Collegiate Hockey Association.
Thompson will pursue a Bachelor of commerce with a major in accounting at the Southfield, Michigan-based school.
"I'm pretty excited about that," he said. "My sister is running a lot of our day-to-day, she handles a lot of the work for me because right now my family sees the importance of going to school and getting a degree and having that college experience."
For those with dreams and aspirations of entrepreneurship and looking to pursue business, Thompson said his biggest piece of advice is to never limit yourself.
"Before I took this idea to my father and sister, I remember thinking about my future and what I wanted to do," he said. "And like a lot of kids think what jobs do you want to do? Where do you want to start?
"I think a lot of kids will get lost on where to start. But, I think no matter what, if you put your mind to it, you can do whatever you want to do.
"It's just about the work-ethic, just sticking to it and not giving up."