IT TAKES MORE than a committed group of athletes to make a provincial championship a reality.
Behind the scenes, a steadfast group of fixers, organizers and logistical whizzes are the engine behind any large-scale sporting event.
Through the month of March in Okotoks and Black Diamond, volunteer efforts ensured athletes, coaches, managers, parents, families and sports enthusiasts were able to be a part of provincial championships in basketball, hockey and curling.
Mighty, Mighty Drillers
Tip-off for the 2A girls high school basketball provincials at Oilfields High was truly years in the making.
"It was a two-year hiatus because we had the plug pulled from us really six days before we were supposed to take part in provincials back in 2020," said Leigh Bretzlaff, Drillers athletic director and chairperson of the provincial event. "It was nice to have it come full circle and be able to host it.
"We had an amazing fundraising group that back in 2020 had put some funds together and reached out to donors and we had some money sitting on the side that we were able to use for this provincial championship that didn't get used last time."
In the lead-up to the event, weekly or biweekly meetings put the plans in motion and crossed as many t's as possible before the show arrived in picturesque High Country.
"But it's always a little crazy because you don't find out the teams that are coming to provincials until four days before," Bretzlaff said. "That Sunday, Monday is always a little bit hectic trying to get things in place with team rosters.
"For example, you're putting banners on the wall for each team and mail goes off to Staples with a turnaround time of 24 to 36 hours at most."
Helping hands were in amply supply on the eve of provincials with a terrific parent group to assist with the logistics of gift packages, team photos and identification cards for the athletes and participants.
The student body played a leading role in the effort as well with dozens of the golden-shirt clad volunteers populating the school.
"I always put it in our announcement just to say, 'Hey, we're hosting this, is there anybody interested in volunteering?'" Bretzlaff said. "And I kind of know the kids already and what I want them to do, the kids that I would want to scorekeep and would feel comfortable on the scoreboard, because that can be extremely stressful and I try to find kids that are confident and understand the game.
"For kids that want to be hostesses, we actually used the Grade 8-9 girls basketball team to look after that piece. We had a few of the Grade 8-9 boys basketball team to look after the livestream for us and we had a couple Grade 11 students be the ambassadors and that first point of contact."
For the Black Diamond school as a whole, it was an eye-opening experience to see athletes and families from other communities descend upon the gymnasium and for the visitors as well.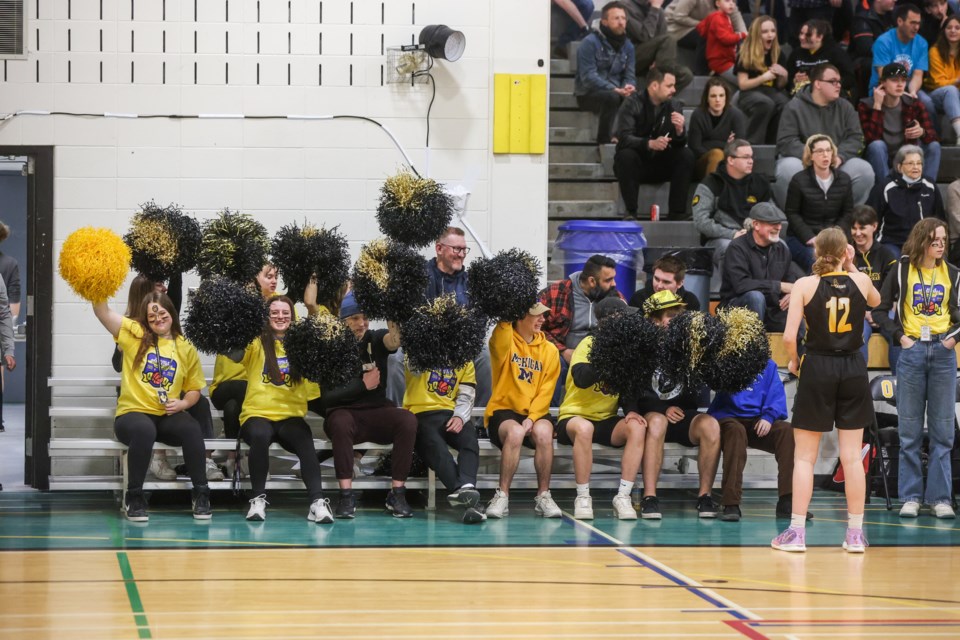 "I think it was exciting for the kids and this is the culture of Oilfields High School and the home of the Drillers and this is what we want to create," he said.
"People were happy with the hospitality, we actually created a little photo scavenger for teams when they had time off in between their games so they got to know more about our communities. We just made them feel welcome, they were super receptive.
"There were individuals telling us they were writing down notes for when they host a provincial championship to say, 'Hey, we like these things and these are things we want to do.'"
Those taking part in the competition didn't take the attention to detail and tireless work behind the scenes for granted.
"It's amazing," said Drillers senior Hayley Miller. "Mr. Bretzlaff puts in so much time, all of our parents were going to Costco and getting all these things for the coaches room, making chili, doing all of that stuff. Tons of kids doing the concession.
"Us playing basketball, I had kids come up to me and say, 'Good job' that I don't even know."
Drillers guard Cheyenne Anderson said the support the players received made them feel good about having people in their corner.
"Bretzlaff really put it all together, he was a working man. We told him it looked like he never slept in days," she said. "I had kids and parents and teachers come up to me and say, 'You did an amazing job' and they're so thankful that we could put this on."
Big picture, Bretzlaff is optimistic the provincial event will have a lasting impact on Drillers athletics with the school set to co-host golf provincials in the fall.
"It's awesome for our young kids to see that," he said. "It just helps with culture of a school and culture of your athletic program and your community any time young kids can see that and be part of that.
"And our seniors did a wonderful job of leading the way just with cheering, face-painting to the pom-poms, all of those things are invaluable to the school — I don't think you can measure that stuff."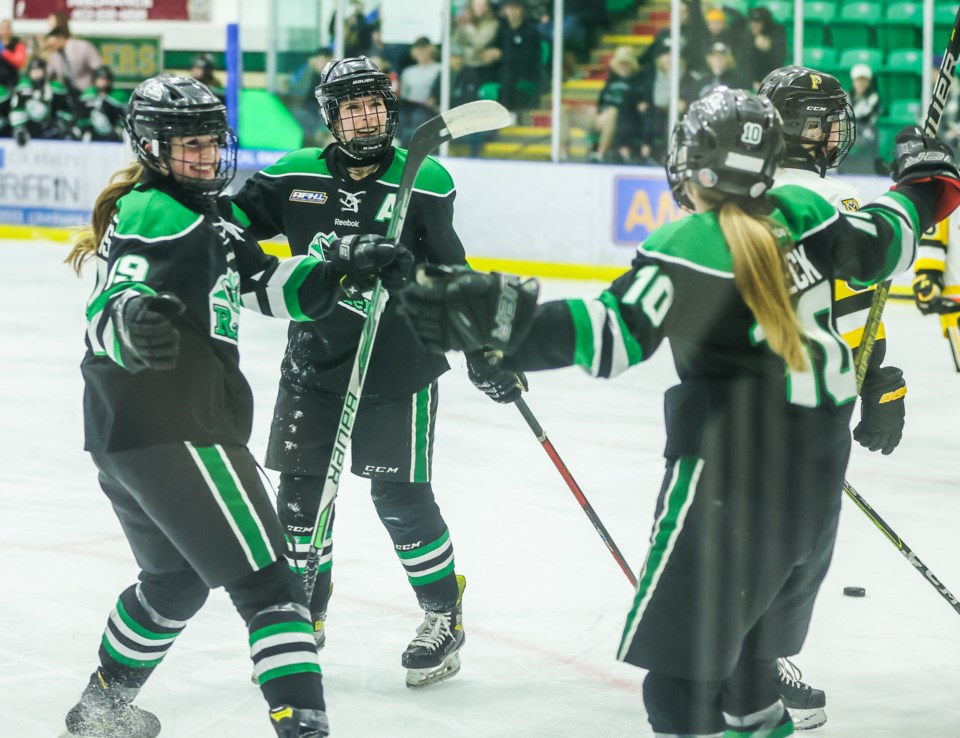 Rocky Mountain Way
When opportunity knocked the Rocky Mountain Raiders didn't let the opportunity slip.
After the initial host community had to bow out of hosting the
Hockey Alberta U15 Female AA Championships, the Raiders stepped up to take on the March 17-20 event with a dedicated base of volunteers ready to take on the role.
"It's a little bit of relief, a little bit of exhaustion, but absolutely proud of what we accomplished," said Tyler Faso, team manager for the Rocky Mountain Raiders and chair of the organizing committee.
"I had such great feedback from other managers, coaches, parents and it was ultimately a labour of love. What we did is for the players and everything kids go through during COVID and the pandemic.
"To have the ability to have an event like this, we really wanted to give them something special and I think we delivered on that."
Faso, who played AAA hockey growing up in Manitoba, said he was inspired to replicate the big event feel of the Bantam Western Canadian Championships he experienced in his youth.
On top of the opening ceremony and four games of competition out of the Pason Centennial Arenas, the 2022 provincials also featured a banquet with two-time Olympic gold medallist and legendary blueliner for Canada Meaghan Mikkelson as guest-speaker at Okotoks' Best Western hotel.
The timing worked our perfectly with the lifting of COVID-19 restrictions allowing for the ceremonies and galas and for everyone involved to experience normalcy like not seen over the previous 24 months, Faso added.
"I feel like we really accomplished a lot," Faso said. "Our volunteer base was amazing and I can't say enough about our committee and our ability to recruit from the local community."
On top of a top-notch parent group, the six-person organizing
committee benefited from the expertise of Okotoks minor hockey lynchpins Jennifer Dustow and Daron Dumanski joining their ranks.
"(The organizing committee) was contacted early on by a couple veterans of the hockey community," Faso said. "To have two people come on as non-parent volunteers and the commitment they had it chokes me up a little bit.
"Operationally, Daron as the figurehead for the tournament was able to coordinate any issues that arose hockey-wise during the event so if a coach had a dispute or if there was a problem with refereeing, anything like that he handled.
"And Jennifer was more involved with coordinating our volunteer effort, things like our silent auction, making sure there were people working the penalty box and the music."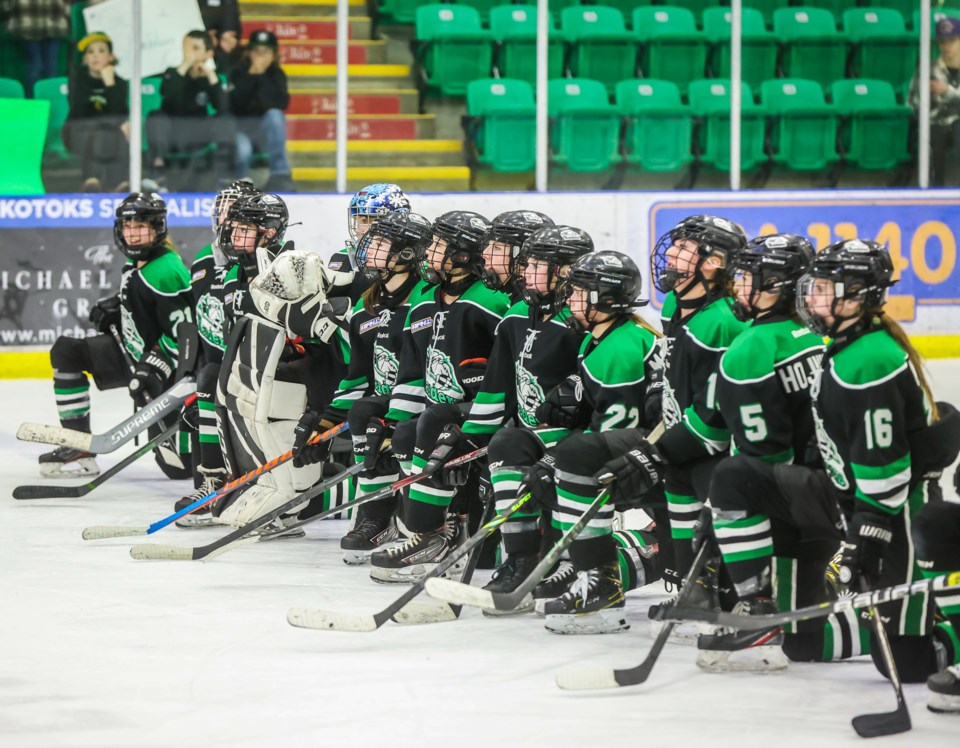 The volunteer base was also buoyed by hockey parents from other teams in the community as well as high school students looking to fulfil volunteer hour credits.
"Ultimately, it was just a great group of people that were focused on the players," Faso said. "And that's why we were so successful."
On the ice, the Raiders capped off the weekend with a provincial bronze medal and an experience they won't soon forget.
"This is something that the girls are going to remember for the rest of their lives and even myself, this was phenomenal," said Raiders head coach Amanda McLeod. "We held it at Pason which is the perfect facility in my mind and the community really came together whether it was volunteers from our parent group who were outstanding or just volunteers from the community.
"I think it means a lot."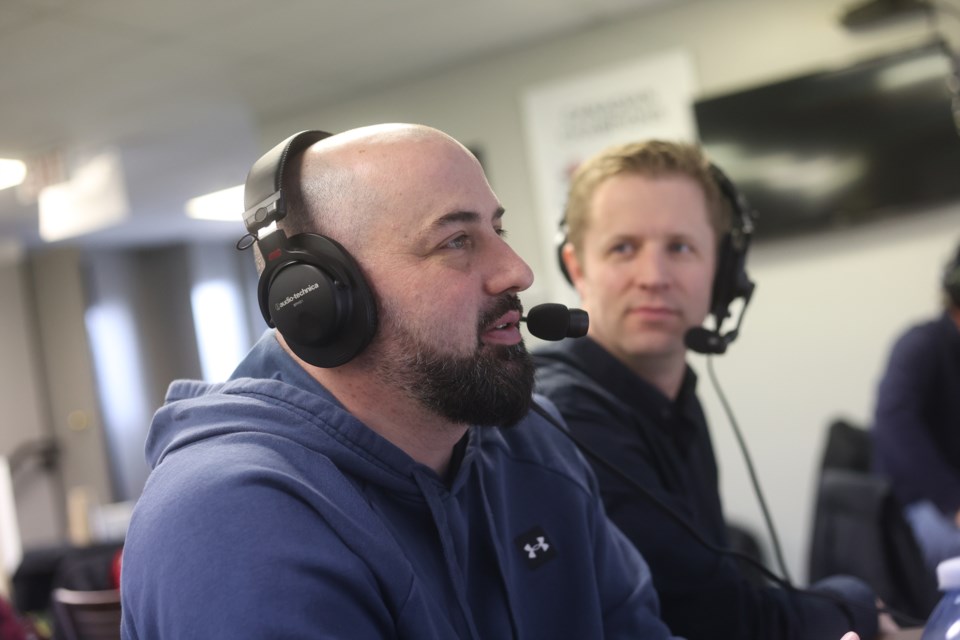 The Roaring Game
John Desjardins, host co-ordinator of the Curling Alberta Mixed Provincials at Black Diamond's Oilfields Curling Club, said the volunteer group behind the scenes had a bit of a playbook for what's needed as an organizing committee that had planned to put on the event in 2020 before the pandemic struck.
It took a village to get the five-day event to the finish line, a result not possible without the tireless efforts of a core group of 30 to 40 behind the scenes.
Those roles ranged from website and social media management, online documentation with Bob Jackson playing a leading role, cleaning, running the snack bar and bar services, and the likes of Lloyd Nelson organizing the logistics and scheduling of timekeepers. Mike Libbus and Peter Keenan took care of the pebbled ice with the former also lending a hand with his play-by- play duties to the livestream broadcast.
"Lloyd did a great job — basically give a job to Lloyd and do other things," Desjardins said.
"And Mike and Peter always do a great job with the ice, I'm sure we had the best ice in southern Alberta. Patti Webb, she took care of the decorations with the flowers and making the club look presentable and Theresa Crocker for organizing our opening ceremonies — she took it and ran with it.
"Once you get all those people doing the jobs, you don't have to worry and can look after anything that hasn't been done."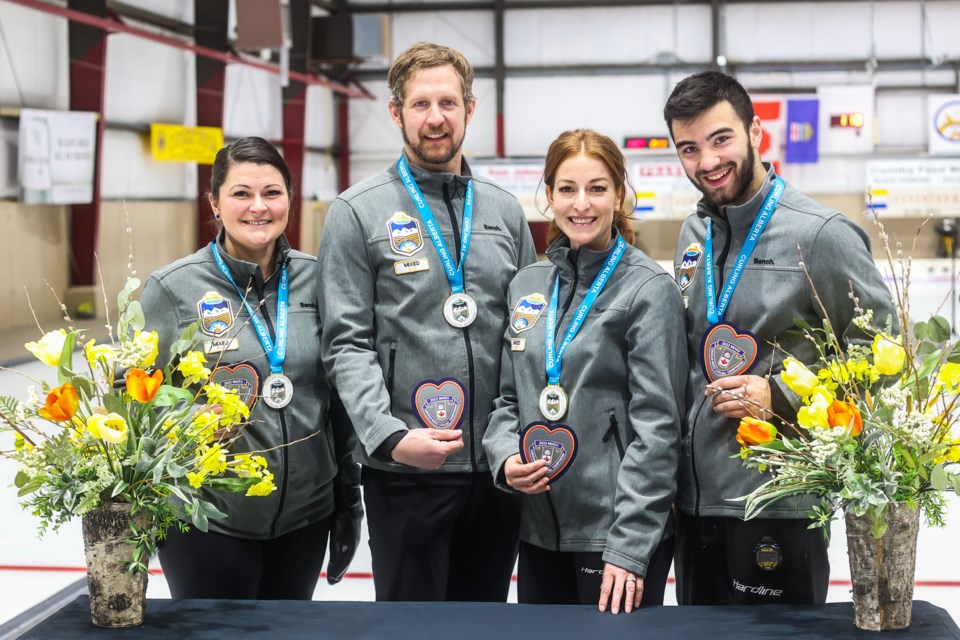 One thing out of the organizers' control was something of a big day in the roaring game with the Brier championship operating on the same afternoon out of Lethbridge with Brad Gushue and Kevin Koe going toe to toe in the final.
"They're only two hours away so a lot of people would have like to have gone and watch the Brier and not volunteered maybe," Desjardins said. "But we've got a pretty good core of volunteers.
"Hopefully people know we exist out here in Black Diamond and will come out and curl and we'll try and keep up the expectations for next year."
The efforts off the field of play are more than appreciated by those in competition.
Morgan Muise, the skip of the mixed provincial winning rink out of Cochrane/Calgary, expressed her appreciation for all involved just minutes after triumphing in the championship match, comparing the treatment they received to what a team heading off to the Brier or Scotties would experience.
"I really appreciate all the effort that the Oilfields Curling Club put into this," Muise said. "Including the ice crew, all of the volunteer umpires and everyone.
"It's incredible to see people giving back to the sport, when they show up it makes these events possible, it makes us have the chance to live our dreams."