Protector, facilitator, table setter.
There's many ways to describe one of the most underappreciated positions in team sports where football tackles, guards and centres man the offensive line with the responsibility to carry an offence and with little credit for doing what needs to be done.
"I don't want to sound selfish, because I played the position, but it really is the driving force offensively for football teams," said Nathan St. Dennis, Foothills Falcons head coach. "It's that initial point where if things don't go well there you can't really do much else, everything else is dictated by that. 
"And a lot of times they set the tone for things offensively with being physical, being able to establish things." 
St. Dennis played NCAA football at Minot State as an offensive lineman and has coached the game for the better part of 20 years. 
The thankless nature of the position is what truly makes it distinctive, the coach added. 
"Football is unique in that we have a whole bunch of different pieces, different positions that work together for a common goal," St. Dennis said. "On the offensive line, you're not getting that opportunity to run the ball, you're not getting the opportunity to score a touchdown. 
"It's basically do a great job blocking, be physical and then you get to see the rewards with your teammates."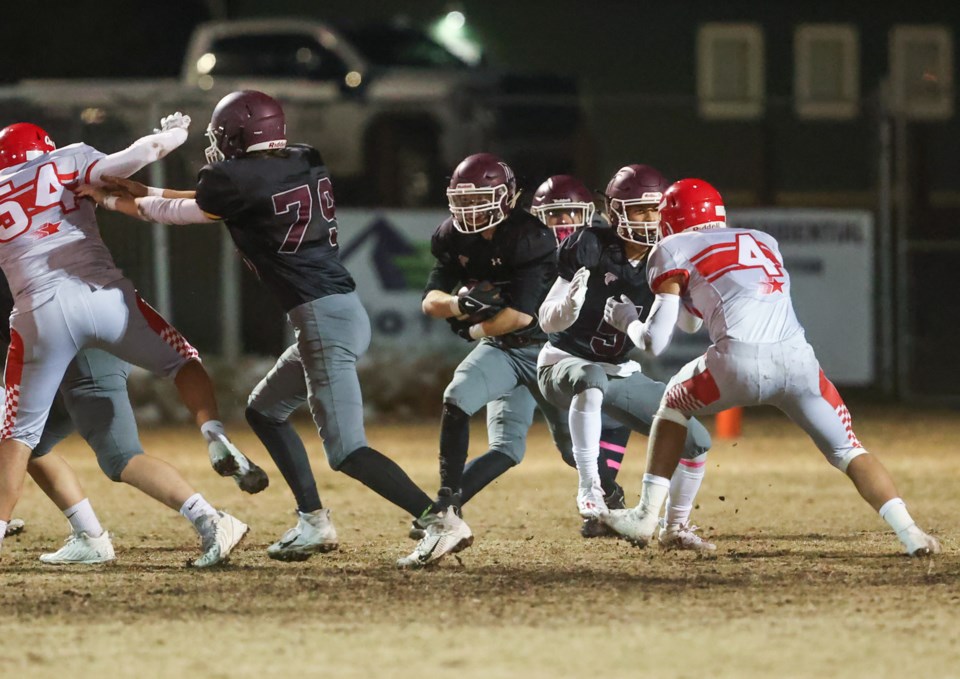 Because of the job they do, linemen often form bonds as strong as the rush coming from across the line of scrimmage. 
"They usually end up forming a pretty cohesive group because they know they're all in the same role, those five guys," St. Dennis said. "It's a fun experience to see." 
That doesn't make it easy to get used to. 
From minor football with the Foothills Eagles, to debuting on the line in the high school game, the mindset of playing the position is an adjustment. 
"We know it's all about developing up through and that's a constant struggle with minor football and working up to high school," St. Dennis said. "We know how important that spot is and it's also keeping those kids engaged because it's not real pretty. 
"Looking at young kids, it's a lot of the basics of footwork, being physical and working hard and sometimes that's real hard to make it fancy and fun for young kids and to keep them engaged." 
Once it clicks, however, those manning such a crucial position on the gridiron take immense pride in what they do. 
"Usually what helps with that is the unique camaraderie that comes with offensive line and offensive line coaches, same thing, it's a different breed, they build up that teamwork aspect," he said.  
"It is a transition, for sure, for a lot of kids. Even with my son, it's not the fanciest thing, but once they get into it and feel it and they really enjoy it and all of a sudden you get a complete flip, all of a sudden they really enjoy being in that role and the impact it makes on the offence."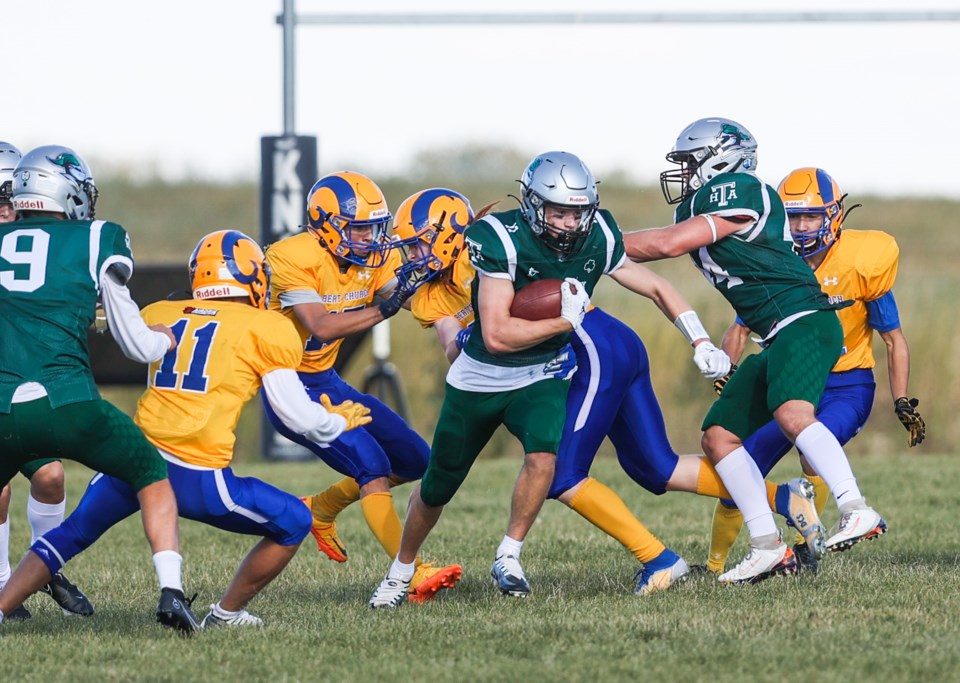 Holy Trinity Academy Knights stalwart head coach Matt Hassett played on the opposing line during his football days and also has a keen appreciation for what the O-line contributes to each down. 
"You don't get anything done if your offensive line doesn't do their job," said Hassett, the Football Alberta Laurie Robertson High School Tier II Coach of the Year Award winner in 2019. "They do their job and they're not noticed and they do it for everyone else on the offence.
"If they don't block for the quarterback no passes get thrown, if they don't block for the runningback not a lot of yards are gained." 
For every Ryder Stone, Payton Burbank of years gone by to current tailbacks Seth Poelzer and Derek Boisvert, there's a five-man unit providing the platform to chew up yardage, move the chains and find paydirt. 
"It really starts up front," Hassett said. "You can have some talented athletes in the backfield and sometimes they will make their plays, but if the offensive line is doing their job consistently, you're just not going to be successful." 
When players join the Knights program, they're given the opportunity to learn to play on both sides of the line, Hassett said. 
"We always start them on one side of the ball and then teach them the other side for a number of reasons," he said. 
"On defence, you have to be a little more athletic, with a little more speed whereas on offence you're kind of thinking things through a little bit more, but being aggressive and fast too, that never hurts." 
Memorizing the schemes with the same diligence as preparing for a midterm exam in physics makes a massive impact. 
"That's huge and you can't be on the field because you might go the wrong way, do the wrong thing and that can get somebody else hurt," Hassett said.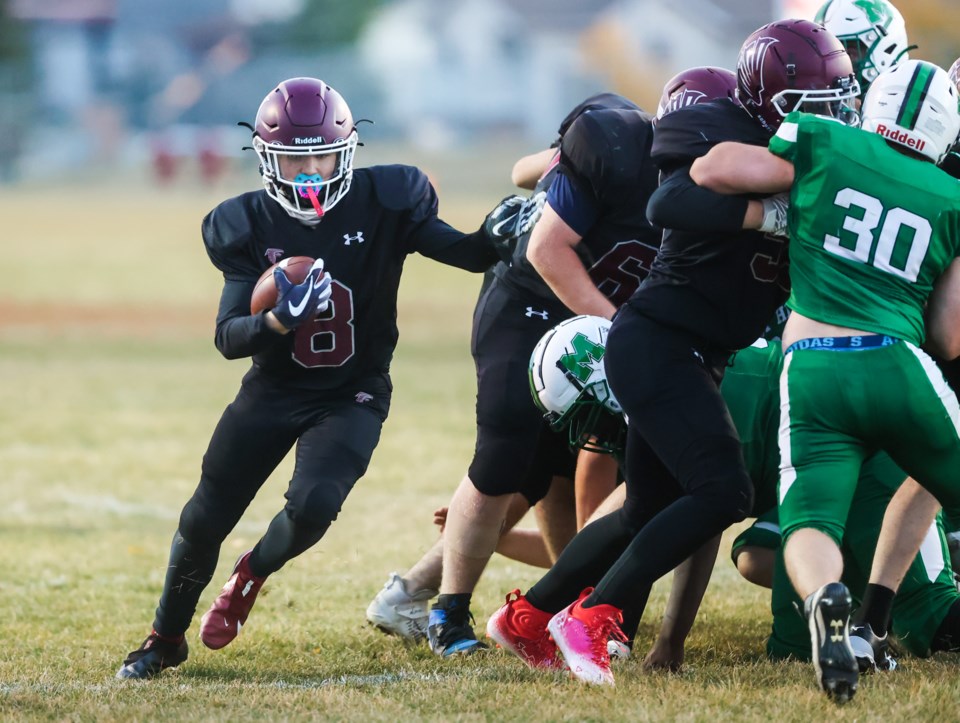 Sebastian Lee, Falcons left tackle, said he loves what comes with playing an underappreciated position. 
"I've played football for two years and it's all I've ever done," said Lee, a Grade 11 student. "Would it be nice to score a touchdown? Yes. But I'm a physical person when it comes to sport and I like to pancake people, I like to knock people over so playing on the O-line is fun.
"And it's the relationships you build because it's such a small group of people, we have seven O-linemen and the friendships and relationships you build are crazy."
Getting up to speed as a new lineman comes with its challenges from footwork and technique to more simple pleasures on the line of scrimmage.
"It's so physically enduring, you have 260-pound plus guys sprinting at you and you've got to get in their way," Lee said. "It can be frustrating, I've been responsible for touchdowns (scored) and I've got no credit for it. I'm OK with that, I'm not in for the fame, I don't really care, but it would be nice to be appreciated for it."
Offensive guard Cade Paterson, a Grade 11 student, said the mental side of the game on the line is also an adjustment.
"The most hard thing for me to get used to was my footwork and getting my mindset right," Paterson said. "Because you have to have a really good mindset to beat that guy right across from you staring down at you the whole game."
In the end, it is a group effort to provide the passing and running protection required for the offence to chew up yardage.
That's where weekly meals come in.
"It is a group on the O-line, you want all of the guys to be better," Paterson added. "If one of the linemen does something bad, then the whole play is messed up.
"I love our group, we call ourselves the hoggies. We go out to eat together at Denny's sometimes because we love pancakes."
For Lee, the biggest source of pride comes from being the ones responsible for allowing a quarterback and receiver to connect for a touchdown and for dishing out punishment on their opposition.
"It's when a receiver scores on a touchdown catch and knowing that we held for five or six seconds long enough for our QB to get the pass," Lee said. "Or it's when you hit someone so hard their helmet comes off and they look dazed, that's the biggest send of pride.
"That's when you feel really good about yourself."
Covering the quarterback's blind side as a left tackle, Lee said matching up against top defensive linemen is an individual battle in a collective conflict.
"The right end is usually one of the best ends so it's a really difficult battle," said Lee, who tipped his cap to offensive line coach Bryan Brandford for making a positive impact on the development of the players. "I can't score touchdowns, I can't get 10 yards. Beating my man, beating my battle, I've won.
"I've allowed zero sacks this year, my QB has told me he loves his blind side, he never has to look at it and I do love that."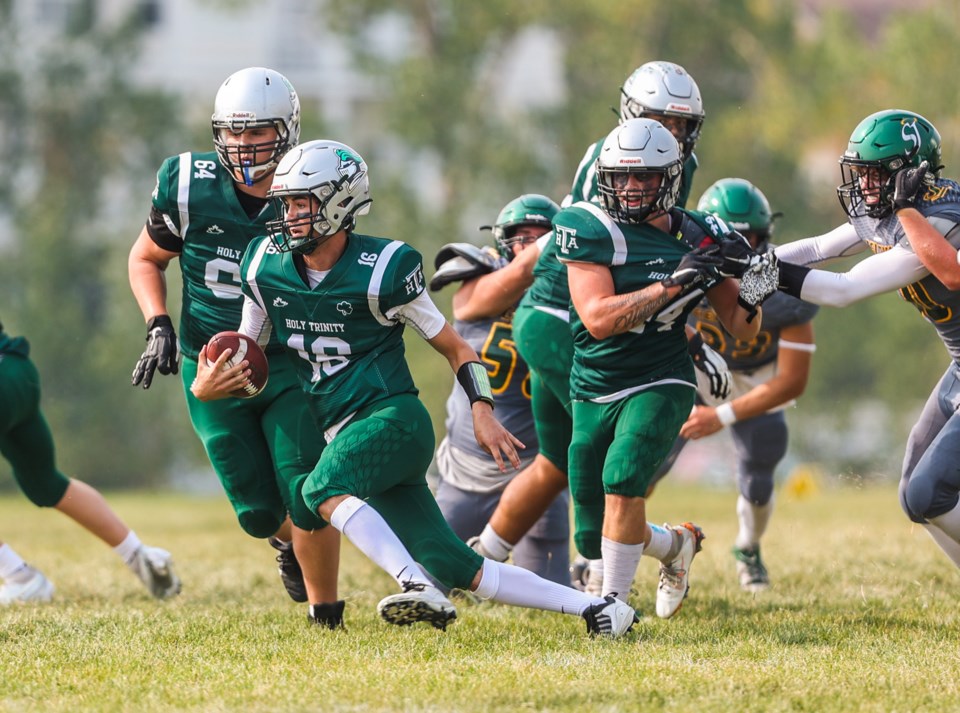 Soul Sahoo, a Grade 12 leader on the Knights line, has evolved from a defensive lineman to centre to guard to the left tackle position in his football career.
"As I grew a little more, got some muscle on me and speed, I'm just better off on the outside," said Sahoo. "I've played with Ryan (Petersen) for all of those years, we transferred to Holy Trinity Academy together.
"Being able to grow into that left tackle position is awesome because I'm able to protect his most dangerous spot, his blind side."
Sahoo said the offensive line dynamic is one that can be overlooked as without the line there is no opportunity for the quarterback to shine.
"We kind of like being overlooked," said Sahoo, a Grade 12 student. "It's a cool thing when he throws a touchdown and the announcer goes, 'Quarterback Ryan Petersen throws a touchdown' and you think if I missed my block that doesn't happen."
The same applies to the running game, where the blocking is a little bit more physical and in the trenches.
"It's almost a bigger achievement run blocking than pass blocking," Sahoo said. "Those big runs, he's making great cuts, but if he didn't get through that first line where's he going to go?"
Sahoo described the offensive line collective as a brotherhood within the family that is the team.
"We're a pack group, we're always together, we're always beside each other," he said. "It relies on trust, you have to trust each other and know what we're all doing.
"If we need to double team this guy, you need to know the person beside you knows what they're doing."
For Sahoo, the position is simplified somewhat by four or five commands and whether those are to the left or to the right in the running game. For pass plays, it's maybe three different sets to each side.
"It's very straightforward and just a lot more of a technical thing," he said. "It's not much of the play calling, it's more the situation like if you see a linebacker inching up for a blitz, you've got to communicate that.
"The most important part is that communication on the fly."
For Sahoo, satisfaction comes from knowing the line did its job.
And there's a few surefire ways to determine that.
"We love when the quarterback runs off the field when that last buzzer goes and he doesn't have a stain on his jersey," he said.
"We love leaving it on the field, the dirtier we are, the better. The best thing we can take away is having that quarterback clean and having that runningback struggle to count how many touchdowns he had."