"IT UNLOCKS this other side of yourself. You're allowed to go feel that feminine energy."
That's how Okotoks entertainer and entrepreneur Tom Barker described drag after dipping his toes (or heels, more accurately) in last year.
"You're allowed to cause trouble if you want," he said. "You can go do whatever you want in drag because it's so absurd."
He tried it out at the encouragement of his friend and drag queen Smother Theresa, also known as Sean Michael out of drag, and the act of donning a new and extravagant persona offered Barker a whole new form of self-expression.
Through this expression, the drag queen Birthday Girl was born.
"Your character will manifest how it manifests, but it's kind of great to be one person one day and another person another day," he said.
"It's such a funny thing. I was all, 'Yeah, screw it, I'm going to do it' because I was pushed into doing it the first time, and then you definitely get bitten by the bug of performing and becoming an entirely different person for the night."
Barker, who came out in 2014, has found a new way to connect to other LGBTQ2S+ folk through drag.
"It feels great. It makes me feel so much closer to my community, because drag is such a quintessentially queer form of entertainment that it makes you feel very close to your community, and you get a lot of very close friendships out of it," Barker said.
"And if you get added to a drag house, for example, I'm part of the House of Michael, it's great because it's your family and we treat each other like family.
"It's almost an instant bond you have with people, and that's great."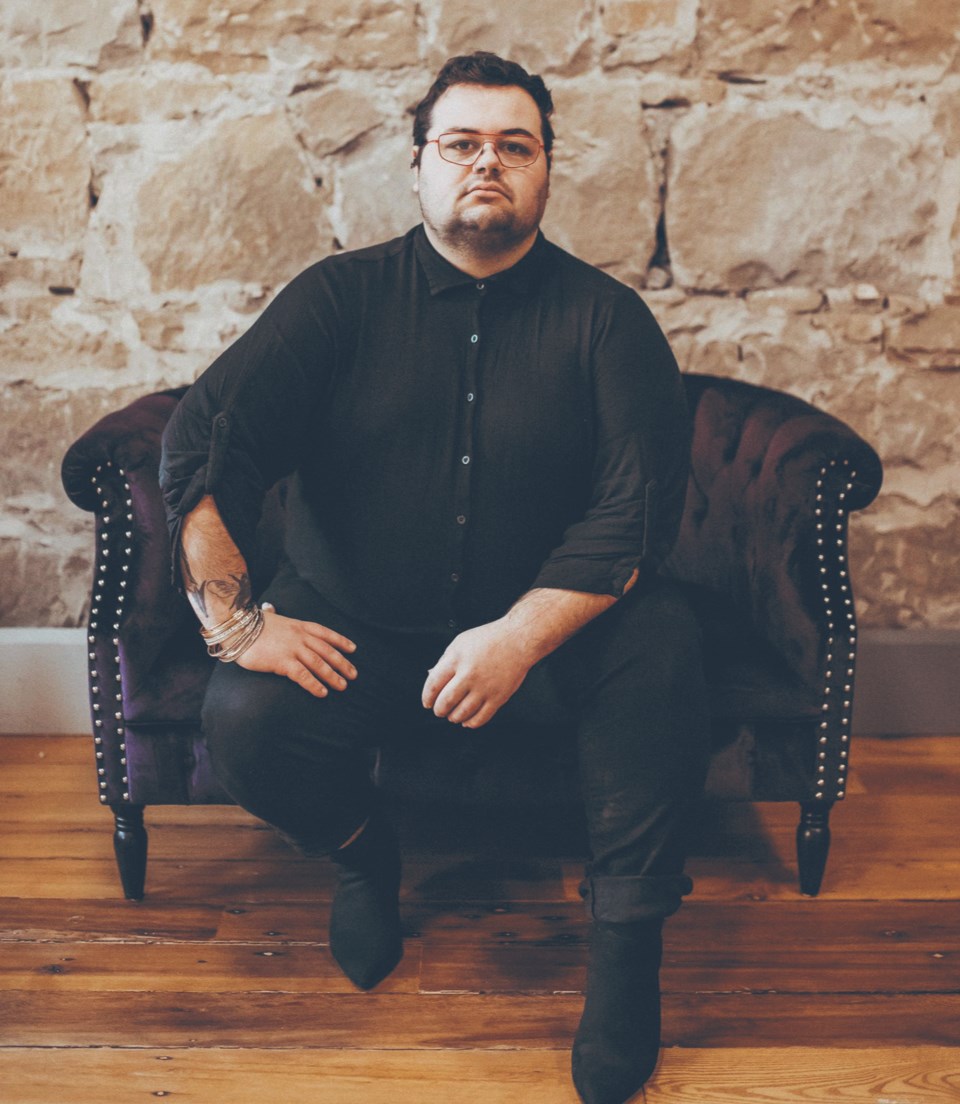 Much of that feeling comes from Smother Theresa, who Birthday Girl considers her drag mom.
"Smother has been so quintessential to the rise of Birthday Girl, and the rise of the shows here (in Okotoks)," Barker said. "By putting me in drag, Smother kind of helped me share the gift and pushed me to do things that are out of my comfort zone and pushes me to wear something I wouldn't normally wear."
Drawing on his skillset in entertainment, Barker began hosting drag shows in and around Okotoks, organized both in conjunction with Okotoks Pride and other businesses.
"It's really great that queer entertainment now has a place here," said Barker, who now regularly hosts events such as drag shows, trivia, and drag bingo at venues like Saluté in Okotoks that often sell out in less than an hour.
"We took off very quickly, and now it's a beast that we can't seem to tame."
He credited the support of community members such as the owners of Saluté, Tanya Douglas and Jen Ross.
"They've been with us from day one. They were the ones that pushed us to do such a massive thing," Barker said.
Often joining Birthday Girl and Smother Theresa on the runway is the drag king Shane OnYou, who has been performing for five years, and goes by Shannon MacPherson out of drag.
"I'm coming up on five years (performing in drag), it's been a ride, so even just watching Tom find his place in it has been a blessing," MacPherson said. "It's been neat to watch his journey and see him come into himself as well, and him being so young I appreciate because you have all these connections.
"I know for me it has absolutely changed my life. I have never been more comfortable in my skin; I have never been happier.
"And it's not because I have more material things, because I definitely don't, but I have more integrity, serenity and inner peace, and I feel definitely a lot more authentic than, say, even six years ago."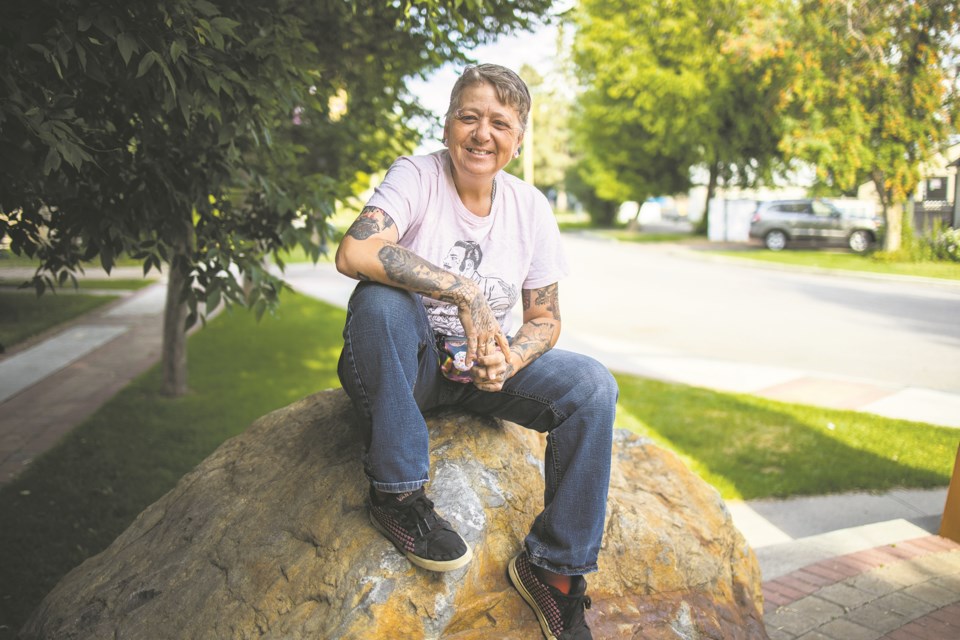 The drag shows, Barker said, go beyond simple entertainment and have helped create more space for LGBTQ2S+ folk. "Bringing queer entertainment here gives them a place in their home community they can go and enjoy without having to go to
Calgary or anything," said Barker, adding it also has a side effect of increasing acceptance in the community as a whole.
"A lot of times, people in rural communities like Okotoks and surrounding areas and the Foothills, they watch RuPaul's Drag Race, they watch all of the queer entertainment that's available for consumption, but they never clue in that there are people like that in the community."
Making that entertainment accessible can hopefully increase that acceptance.
"By bringing a show here and doing those things that we do, what it does is it shows people that it's right here in their home community and they can go and support it," Barker continued.
"And it means they can be a little more tolerant when they see someone on the street — it's not so far-fetched that a gay person lives here."
As the drag scene in Okotoks expands, Barker and MacPherson agree there is room and need for more diverse inclusion, both
in Okotoks' fledgling drag scene and the community as a whole, which Barker said they must hold space for.
"There's so much room for diverse casts and diverse people," Barker said. "To me, it's like people, the white cisgender person unknowingly — or a lot of the time knowingly — alienates the POC (people of colour), or trans person, or trans POC from being involved in the community."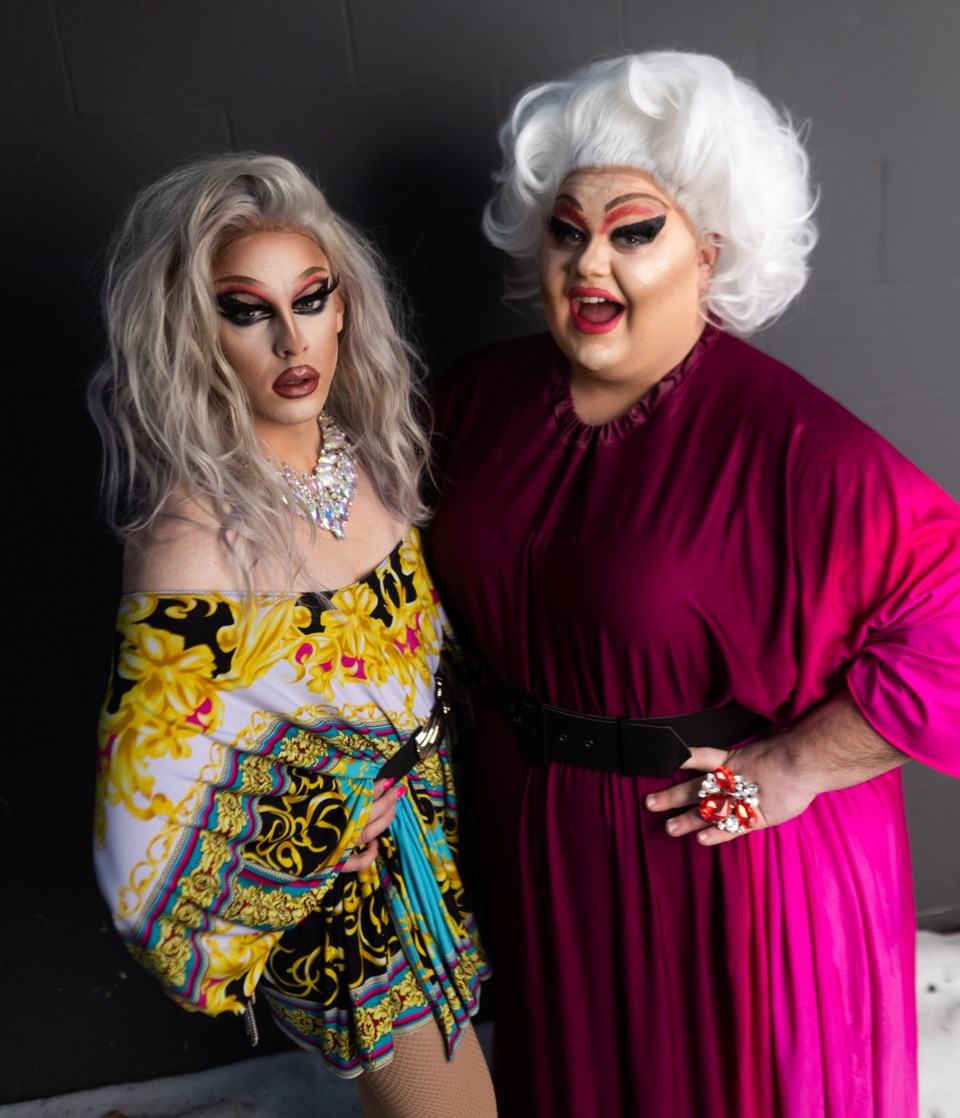 There is plenty of room for that growth, MacPherson said.
"I think it's great, but it's a small start, and I say that because we're still showcasing that kind of mainstream drag, like RuPaul stuff," MacPherson said.
"Drag is way bigger than that, and we could have more representation of the POC community, we could have more non-binary, definitely more drag kings.
"And I'm not seeing that out here unfortunately, so that's something we could improve on as well and I think we've only just hit the tip of the iceberg here."
Barker agreed there's an impetus to be proactive in making that space.
"I think it's up to us as a queer community, and just as a community period, to make room; invite those people, actively ask them to show us their talents and give them a space to do that," Barker said.
"As we grow, we definitely are mandating that, and it's not about having a token person or token diverse cast, it's that every person has a place here. And who are we if we decide who that person is?"
The hopes of increased visibility and inclusion for diverse people is a driver for not only the shows, but Okotoks Pride, the not-for-profit community group co-chaired by Barker and MacPherson.
While not officially incorporated as a non-profit society, their goals are growing.
"It's effectively a bunch of people wanting to do good stuff," Barker said.
There were small hiccups though, such as a global pandemic, which MacPherson said put a damper on a group with goals of holding a large event.
"When we first started it up there was just a bunch of us that were just really interested and wanted to see it going in Okotoks again," MacPherson said. "We got together and then nothing really came of it because of the pandemic, but we were all sort of talking and had the ambition to do it when we could."
As restrictions eased, the group hopes to hold a Pride event in June, during International Pride Month.
"That will give us the whole month to celebrate different things, but we'll start off with the festival near the beginning," MacPherson said.
At the grassroots level she added the organization is beginning to make a difference.
"I believe it's starting to get there. More and more we have our social media stuff that's out there, and more people are starting to be aware that something's here," MacPherson said.
"Plus, with the drag shows that Tom's putting on and other drag shows brought to the community by other people, it shows people that are in the community that have been silent for so long that we are here, even in between those times.
"So we're going to keep that kind of stuff going on and have more types of things where people can see us visibly in the community and feel safer to be a part of that."
They have big plans for the group's mandate beyond a single event, Barker said.
"My hope is that we run year-round, providing programs, entertainment, a place for queer people, hopefully to be able to hang out and do things and feel like they have a sense of community," said Barker, adding for now, the group is partnering with others.
"We're kind of working under the guise of 'Together with Pride' right now, it's a slogan for what we're doing.
"It's just that we get to do everything with pride, all the time, whether it's together, with other community members or organizations."
MacPherson hopes to see more programming geared toward youth as well.
Increased community collaboration and awareness, MacPherson pointed out, translates to safety.
"I feel safer in the community, knowing these things are going on; I don't always feel safe out here, so knowing there are people that are allies in the community is a big help," she said.
"I moved here in '97, and I could tell you I wouldn't have walked down the street in drag back then, and I would now. It's just a different feeling. I've noticed flags around, Pride stuff, that made a difference for me.
"The visibility is a huge thing for safety in the community."
While there is a way to go, Okotoks feels like a safer place, said Barker, who has lived there since 2008, but that can vary.
"It's gotten better over the years. When I was younger, I would be scared to dress a certain way, of looking too gay because I would get called f** a lot," Barker said.
"Okotoks has gotten better, like, I walk around in heels, I carry my Kate Spade bag and my glittery bracelets.
"But I definitely think it's a case-by-case basis, it's not like it's great for everybody."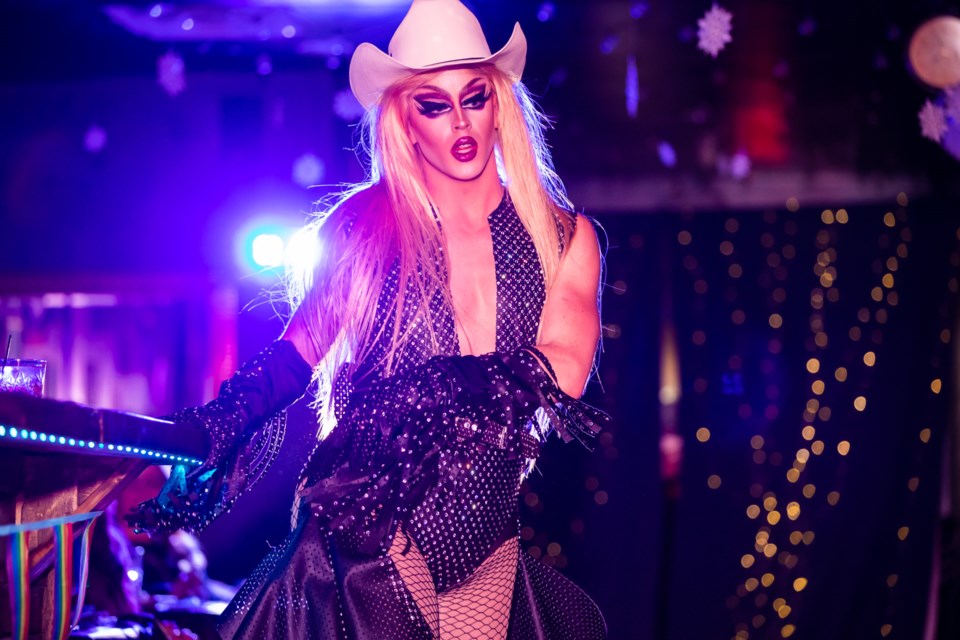 Individual mileage may vary, he said.
"For me, it's been great because I've been very privileged to be able to be involved in the business community and the entertainment community, in every community," Barker said. "I feel very privileged in that way, but there's still people that struggle with it."
For anyone who wants to help with Okotoks Pride, be it the June event or simply helping to create a better experience for LGBTQ2S+ people in Okotoks, Barker said volunteering is welcomed.
"We'll obviously need all the help we can get with the festival, because it's much the way I like to do things: much bigger than I anticipate them to be," Barker said.
He credited the Pride volunteers, LGBTQ2S+ people and supporters in the community for enabling the work that has been done already.
As support grows in and around Okotoks, MacPherson is encouraged.
"Just having these shows pop up and people wanting to be a part of Pride, for me shows that it's not as scary as it once was," she said. "Although there's still a long way to go, not just in Okotoks but the world."
For more information about Okotoks Pride, visit instagram. com/okotokspride or facebook.com/okotokspride