Starting a fresh-cut flower farm can be a natural progression.
That was the case for Lori Snider-Wimble when she began Floriculture Flower Farm in 2021. Located on acreage south of Okotoks on 48 Street East, the farm boasts thousands of plants and offers fresh-cut flowers.
Snider-Wimble creates bouquets made-to-order and offers a subscription service, while also providing flowers for weddings and other special occasions and events.
"I've always grown plants," she said, adding she feels a strong connection to the earth when she is working with flowers. Her parents and grandparents also enjoyed working in the garden and growing things.
"It's such a calming and therapeutic means for me, I find it very exhilarating."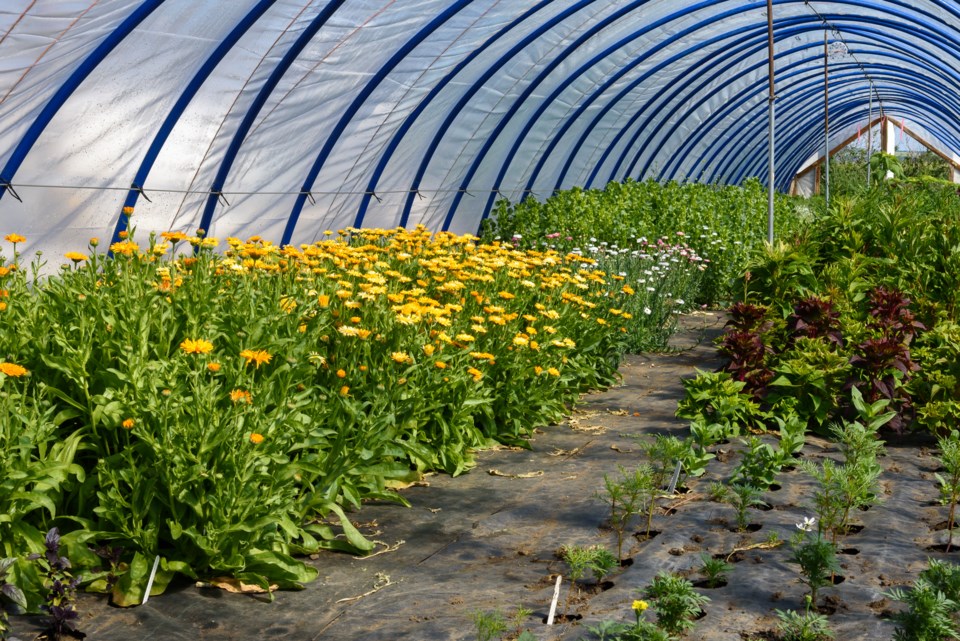 She initially grew flowers in the yard, as part of the landscaping on the couple's acreage.
It grew from there, and now the business is in its second growing season.
"I got into a flower farming course and loved it," she said. "Everything was growing, and it took off from there."
The business is unique, and Snider-Wimble isn't aware of any similar farms in the area that grow and supply fresh cut flowers.
It was January 2021 when she enrolled in the course, learning to start flowers from seed. Snider-Wimble grew up on a farm in the area and credits that upbringing of being surrounded by nature and animals for her appreciation of all things plants.
"And there's so much to learn," she said. "I don't think you'd ever be done learning."
It was perfect timing to start a new venture. She felt that everything in her life was under control, and she could take on a challenge and build something for herself.
"I think I started out as just beautifying our place and then it just escalated to that and I craved more," she said.
The yard was beautiful, said Kent Wimble, who added his wife wanted to be able to share it.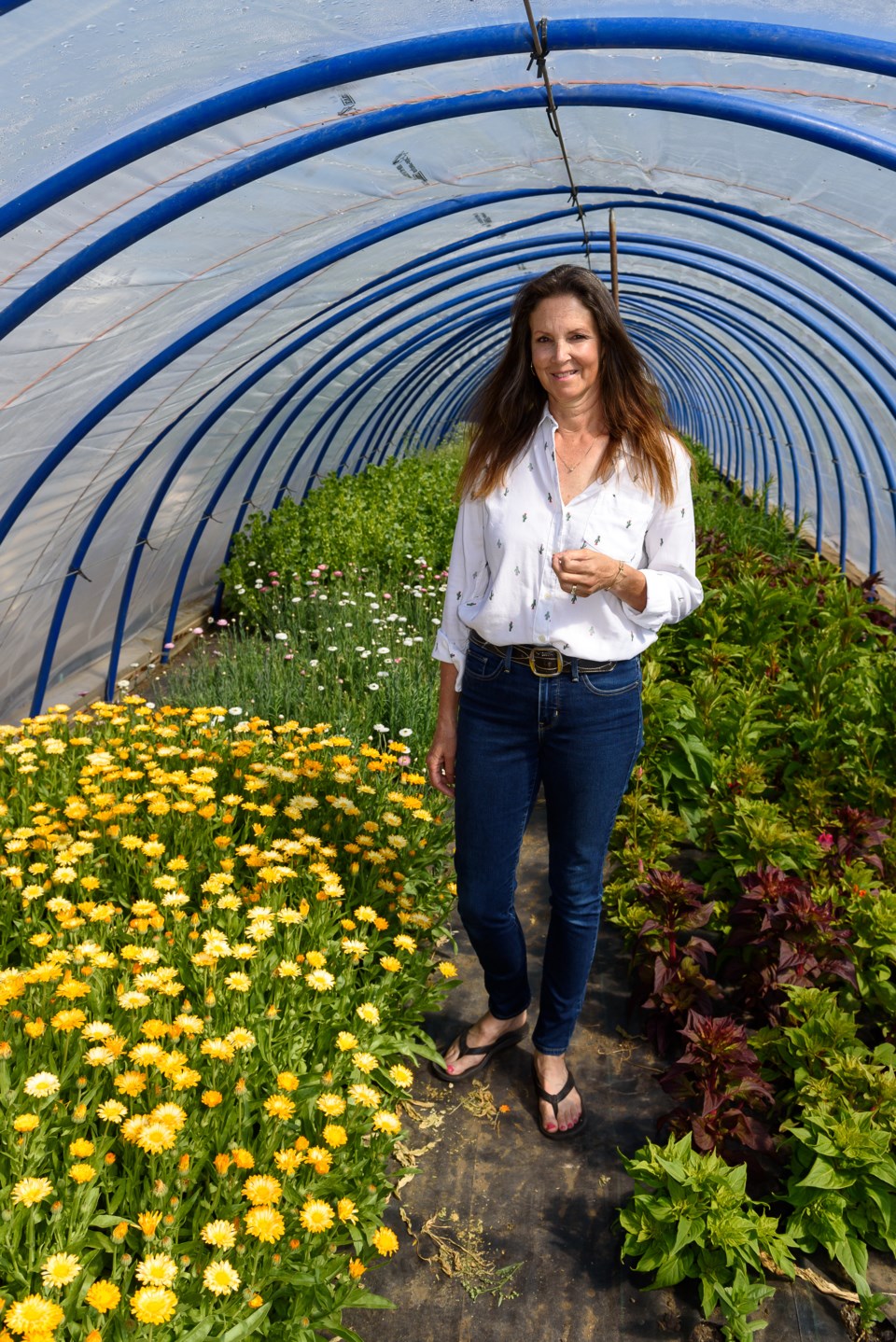 "Every stage of our yard became a dream and then a reality, and then this farm was a dream and now it's reality. So I'm happy about that," she said.
Growing and supplying fresh cut flowers is just the next step in cultivating her passion.
They selected an area to start the flower farm on and got to work picking rocks and laying out where the hoop houses would go, breaking ground in the spring of 2021.
Kent built the hoop houses, arch-shaped structures similar to greenhouses, and put in irrigation, and then they got to work on a website with photos of the many varieties of flowers.
"It was a lot of work," Snider-Wimble said, and that doesn't include actually growing the flowers.
"She's the hardest worker I've ever seen, and I'm not joking," said Wimble, who added his wife will spend 16 hours a day working with the flowers.
"It's all about heat and light," Snider-Wimble said.
It takes the right temperature to make a seed sprout, and then the plant is put under grow lights until it matures and can be conditioned for the elements. Finally, the plants are transplanted into the field.
Snider-Wimble selected flower varieties based on what appealed to her.
"If it called me, I tried it," she said. "They had to speak to me to get on the farm."
Different plants have different maturity dates, and that is also a factor when she decides what to plant. Succession planting is done to ensure everything doesn't bloom at the same time.
She lists peonies and dahlias as her favourite flowers.
"You can get a dinner plate size flower from them," she said. "There's thousands to pick from. They're all beautiful."
When she opened the business, she knew she had something.
"I knew I could grow, and people would be happy with the outcome," she said.
Starting without any covered areas, they built one hoop house and then another, adding space as she went.
Now, Snider-Wimble estimates she has over 3,000 annuals, plus the perennial beds.
Each annual will produce an average of five stems. So that's a lot of flowers.
"You don't realize it until you start picking them and then preparing them," she said, adding there are 38 varieties of annuals and another 20 of perennials.
"It's been a growing experience, that's for sure."
Wimble added it was great to get the plants covered, given the climate and possible hail in the region.
"Here was nothing but flat field before, so everything is built with our four hands," he said.
Snider-Wimble offers a standard bouquet as well as custom options, with different flowers as the season progresses.
"In the spring, it's a little bit smaller flowers, I would say more daisies and lilies, but as the season progresses, it'll be the bigger, rounder flowers like dahlias and zinnias, amaranth, everything that's in season for that time," she said. "But it's usually around 15-plus stems."
Pre-ordered freshly cut flower bouquets can be picked up from the farm on Saturday morning, which Snider-Wimble makes the night before, then cools them so they're ready to go. Special orders can be ready when needed, she added.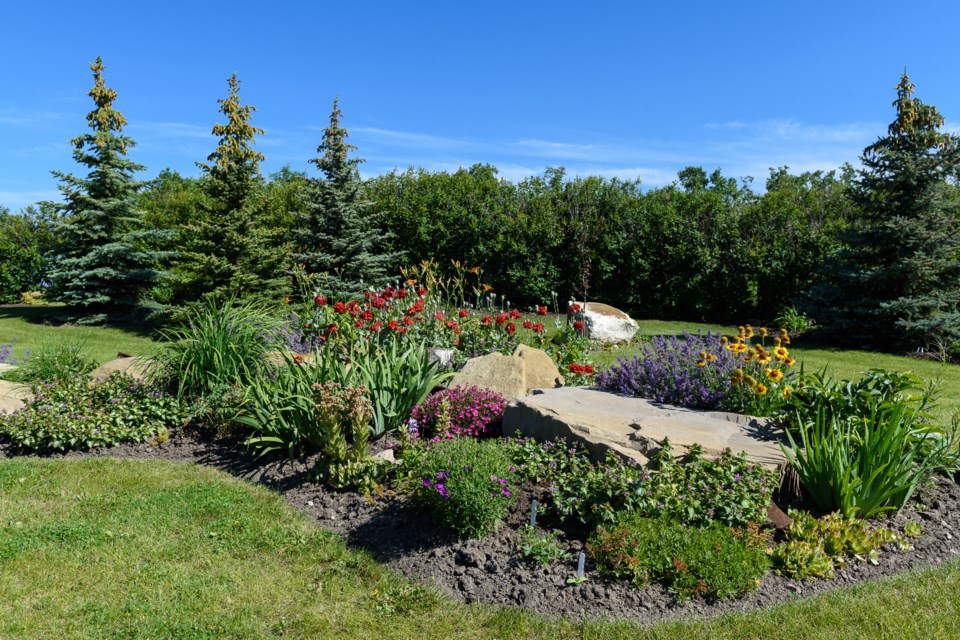 New this year, subscriptions are available for weekly or bi-weekly flower arrangements. Wholesale flowers are also available.
Everything gets used, and the flower farm is zero waste, with dried floral arrangements, flower bars, and even biodegradable confetti made from flower petals available. Snider-Wimble said the confetti is a big hit.
Right now, the business is manageable for one person, but she didn't rule out the possibility of future growth.
"I started out with word of mouth, and then it just passed on from there," she said. "I'm happy for one person to handle this operation. It's enough. But you never know. I have room to grow. And we'll see where it takes me."
If the business grows, hiring somebody might be a possibility, she said.
Snider-Wimble offers other services too, including DIY buckets, where people can make their own flower arrangements, workshops and photo shoots on the property. There is a cabin and an outdoor stone fireplace on the property, and the varied landscaping makes numerous backdrops for photography.
For more information, visit floricultureflower.ca.