When the snow begins to fall and temperatures dip into the negatives, most people long for the warmth of their vehicle — warm seats, a toasty steering wheel and a clear windshield.
But not Graham Campbell.
Campbell teaches Grade 3 and 4 students in a nature-based learning program at École Percy Pegler School and rides his bicycle to work and back nearly every single day, in every season.
"I do own a car, I can drive but I just love riding my bike," he said. "It's a 15-minute window where I'm just being me."
The cyclist explained that he began cycle commuting while studying at UBC Okanagan, finding himself frustrated with the price of parking and the distance of the parking lot from classrooms and amenities.
"The mental health benefits are massive for me," he said, adding that he owns five bikes that he uses for various activities.
Having enjoyed the ride so much in spring, summer and fall, he figured he might as well continue throughout the winter, even as ice builds and snow falls.
"Commuting in the winter is a lot of fun," he said.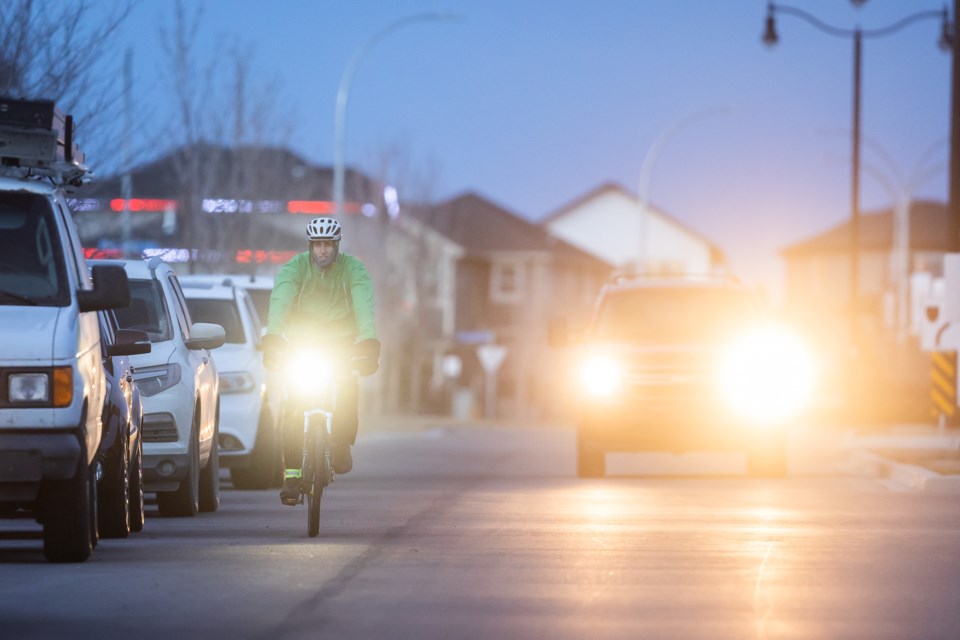 Carson Bell, an employee at Ridley's Cycle in Okotoks, said that most individuals who bike in the winter are doing so as a continuation of their commuting practices throughout the rest of the year, like Campbell.
A small portion however, do purchase fat bikes — bikes with large tires that can run on very low pressure and are typically used for winter mountain biking.
Winter cycling is also done for other recreational activities and fitness, Bell said.
When Campbell first began teaching, he said that he was bringing so much work home with him each night it was nearly impossible to balance on his bike.
So, he began to drive, which he didn't enjoy. Then, he made the decision to make his mental health a priority — continuing to commute on his bike and leaving his evenings open for family time.
"There was this beautiful moment, like four years ago, where I just decided, 'Actually, I'm not going to bring that home. I'm just going to leave it at school,'" he said.
To do what he enjoys safely, Campbell said he keeps a few items in his equipment stash.
A light is a necessity, he said, as commuting typically happens in the morning and the evening when the sun is rising and setting, limiting the visibility of drivers and other cyclists.
Wearing a helmet is also a must when riding in any season.
On the same note, Campbell said that he wears a running-style jacket that has reflective tape to make sure he is as noticeable on the road as possible.
A bell is also a nice touch to give walkers, joggers and other cyclists a heads up when you are approaching, he said.
The winter bike he rides also has studded tires, which he said are great to have, but not a failsafe.
"Sometimes, even with studded tires, it is real scary," Campbell said, describing how a bike can slip and slide on patches of ice, sometimes giving the sensation of floating.
Even though he chooses to ride on the road, he explained it is not necessary, given the extensive pathway system in Okotoks that he said is regularly maintained and kept free from snow.
The pathways were one of the deciding factors for Campbell and his wife when they decided to move to town, he said.
"I don't have to ride on the road at all if I don't want to," he said.
"Really, in Okotoks, it's kind of the perfect setup to commute both summer and winter, just because the distances are going to be shorter," Bell said, agreeing that the pathways in town are great for someone who wants to cycle commute and stay off main roads. "Regardless of where you live, you can probably link in 50 or 60 per cent of your ride if you were riding from one end [of town] to the other."
A favourite piece of equipment for Campbell are handlebar mitts, which cover the handlebars, brakes and controls of the bike, and allow the rider to slip their hands in — giving them control and also keeping their hands warm.
Campbell also has covers that go over his shoes and help to cut the wind while riding. Sometimes he'll add rain pants to his attire to keep dry.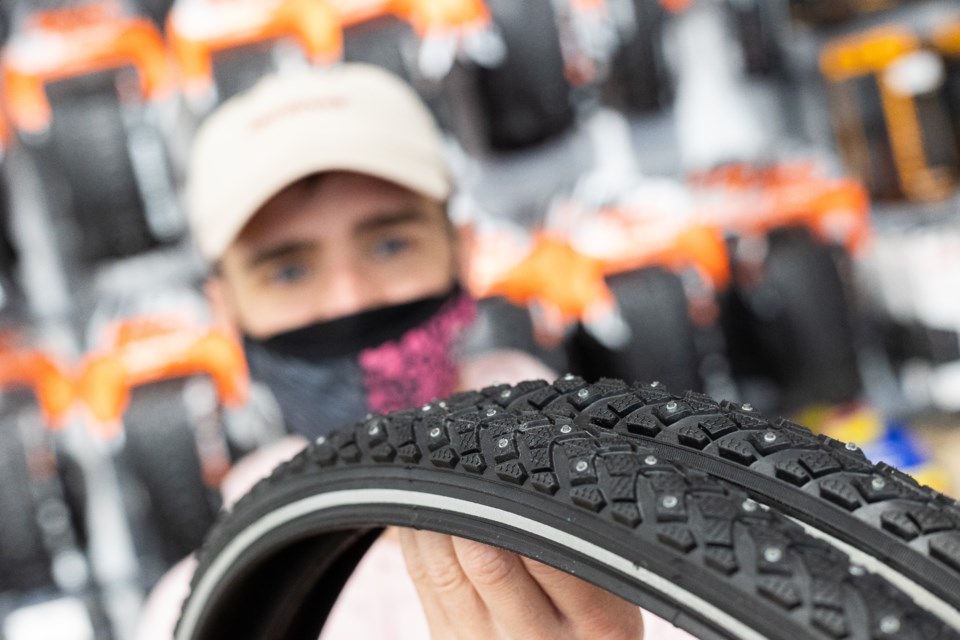 "The barrier for entry is quite low, assuming that you already have a bike that is in decent-enough shape to do it with," he said.
Bell said the starter pack for someone looking to get into biking in colder temperatures is really quite simple — appropriate apparel that often translates from ski wear, a good light, studded tires, coldweather chain lubricant and something to keep your hands warm.
He added that a bike with disc-brakes is also ideal for the winter, as they are hydraulic-powered.
Olderstyle rim-brakes, where two pads contact the rim of the tire to force a stop, are a bit more challenging in the winter given that they can get clogged with snow and can become slippery when cold.
"You might notice that in really cold weather, things like — especially depending on the age of the bike — shifters might feel sluggish, they'll feel a bit stiff. A lot of components on bikes are cableactuated, so they just get a little more constricted in the cold," Bell said, explaining riders may need to push a little bit harder on shifts and gears to see results.
Sufficient supplies have been a challenge for storefronts and cyclists alike, Bell said, given the uptake in hobby cyclists during the pandemic.
The walls of Ridley's were rather bare at the beginning of November, when most of the new bikes would typically arrive. This is due to supply-chain issues, Bell said.
"We're seeing that go, probably well into 2023 even," he said. "I have really high-end bikes that I [ordered for the shop] in February that haven't arrived yet."
This is due to a larger-than-normal demand for units, and the fact that there are only so many stores in the world that produce bicycles — especially high-end ones.
Most of the store's winter stock did show up on time however, so they are mostly covered on that front.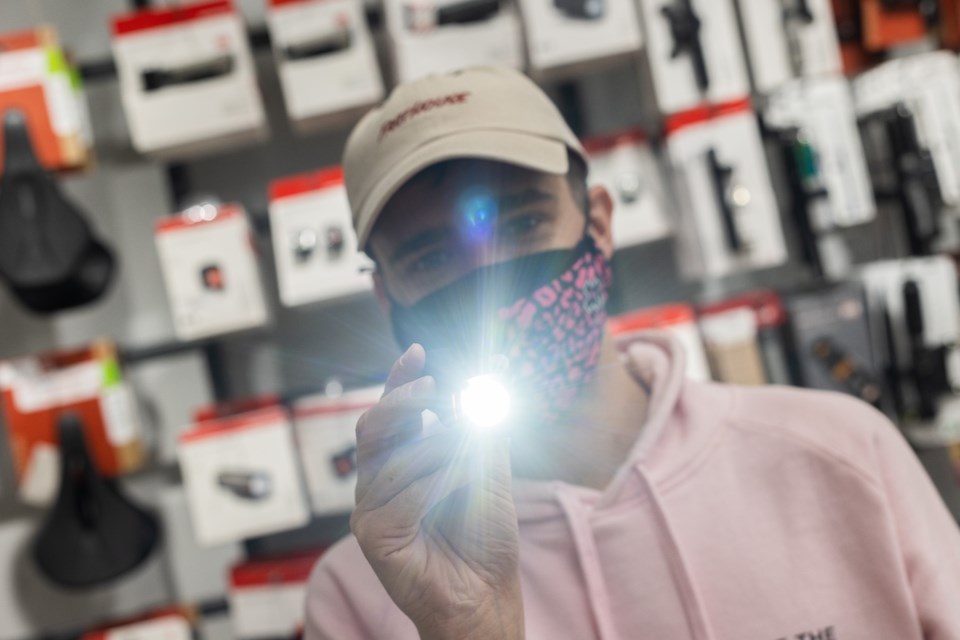 When discussing his cycle commuting journey, Campbell recalled a morning last year when the temperature was -31 C.
Committed to his cause, he suited up and headed for school on his bike. When he reached the end of the commute, he said he had 'Saskatchewan mascara' — eyelashes frozen with a crystallized glow. Prior to this day, he said he had decided that his temperature cut-off was going to be -30 C, but he couldn't be bothered by the single digit.
"Not so smart, not recommended, but really fun," he said of his ride in the blistering cold.
Cycle commuting allows Campbell to do something he loves without taking additional time away from his family.
Instead of going for a 40-minute trek to unwind after his work day, he has found a way to integrate his passion into a necessary practice — two birds with one stone.